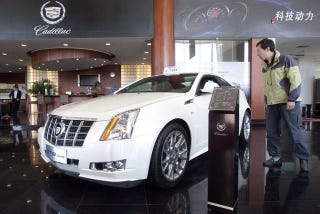 According to a study published on Global Times, a Chinese news site, Chinese car buyers are more likely than Americans to look to blogs and online user reviews when making automotive purchasing decisions.
The survey entitled Automotive Path to Purchase Study (TAPPS) conducted by global research consulting firm TNS, revealed that American car buyers are more influenced by traditional media advertising such as television commercials rather than blogs, forums, and online user reviews. The American survey participants found these digital sources to be "less reliable and 'infiltrated' by brands." However in the Chinese car market, "31 percent of buyers see consumer-driven content as their most trusted source of information, compared to just 7 percent in the US."
The survey also stated that "...brand-controlled sources, particularly television and press ads, are most influential in the US buying process. Almost six in 10 (59 percent) of US car buyers cite these as their most trusted source, compared to 43 percent in China."
I found these results to be quite surprising given the proliferation of of social media interactions, forum participation, and consumer research conducted by many car buyers here in the US. Do the majority of American car buyers really believe that owner forums are "infiltrated by brands?" Go on any vehicle specific owner's forum and you will find folks praising their vehicle, but you will also encounter unfiltered criticism towards a brand's product no matter how popular it is.
In my experience as a purchasing consultant, potential car buyers are constantly looking for real world experiences with the cars on their shopping list. That is after all, one of the reasons why Consumer Reports is so influential. While it is true that Americans as a culture can be swayed by advertising media, when it comes to a significant purchase such as a vehicle, most buyers do research well beyond a manufacturer's website.
Maybe I am biased because I regularly participate in an online automotive community, but it seems that this survey is either incomplete, flawed, or simply lost in translation. When it comes to buying your next car who do you turn to? Is it traditional advertising and manufacturer websites? Or do you go online to see what other users are saying?
My name is Tom and I run AutomatchConsulting.com. I am a professional car-buying consultant, which means people pay me to help them select the right car (NO YOU CAN'T HAVE A PRIUS) and negotiate with the dealerships to get them the best price. If you have any other questions or suggestions for future posts about the car-buying process please let me know. You can find some of my other car-buying articles here.
You can also find me @AutomatchTom and Facebook.com/AutomatchConsulting
Photo credit: Bloomberg