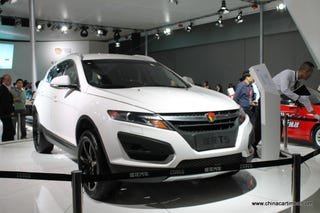 According to a Bloomberg report, a Chinese dealer incited a sales panic when he allegedly told buyers that Nanjing would be imposing restrictions on auto-sales. In order to alleviate traffic congestion and pollution, many large cities in China set quotas on how many new vehicle registrations are allowed, which in turn limits the amount of new cars that can be sold within that time period.
In Nanjing, the dealer claimed that the state had purchased machines for a registration lottery. Buyers who feared that they would not be able to purchase after the restrictions are implemented, rushed to an auto show on May 1.
About one car was sold every three minutes during the exhibition and sales surged by as much as 40 percent in April at some dealerships, according to the state-backed radio station.
Officials have not released the name of the dealer nor have they detailed what his punishment would be. Given the massive amount of cars he sold in such a relatively short period of time, my guess is that unless he is executed, his gamble paid off.
One of the classic stealership tactics is "creating urgency" in a buyer...well played Chinese dealer...well played.
@AutomatchTom is a professional car buying consultant, lover of all things automotive and a bit wagon obsessed. You can find more ramblings and plenty of carporn here.
(image credit ChinaCarTimes.com)