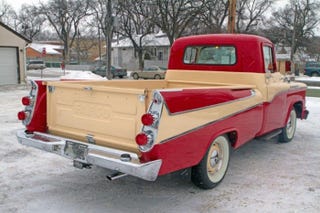 It's a jet, it's a rocket ship, no it's a small hyper-obscure mid-century pickup truck. What you are beholding here is a 1958 Fargo Sweptside Pickup. Fargo was Dodge's export brand to Canada at the time.
What they did was slap some station wagon haunches onto a Dodge D100. There was an American version of this truck, the Dodge D100 Sweptside. However there were only 11 of these 1958 Fargo Sweptside Pickups ever made (Really? No one wanted this?)
Out of all the various styling treatments manufacturers have applied to truck beds, what's your favorite example?