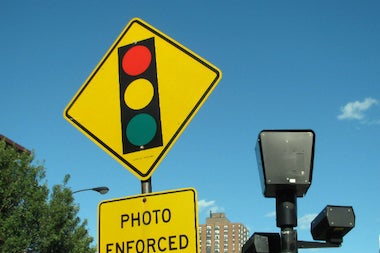 On Thursday, a class action lawsuit was filed against Chicago's former red light camera vendor, Redflex Traffic Systems. "For what?" you ask? Well, the first (or second) word that popped into your mind as soon as you read "Chicago" is correct: bribery.
In 2012, the Chicago Tribune published an article based off of internal documents from a former Redflex employee exposing the sheisty business with a former CDOT official in charge of the red light program while the city was bidding for contracts.
The former CDOT official has since been indicted for bribery by the federal government, alleging he received over $600,000 of bribes in the forms of cash, cars, real estate, travel, and gifts.
Following the Tribune articles, Mayor Rahm Emanuel banned Redflex from bidding on the the red light camera contract, as well as the new speed camera program.
The lawsuit claims Redflex earned 20 to 25% of each $100 fine handed out to drivers. During its 11 year reign in Chicago, Redflex has been estimated to have raked in $125 million. The lawsuit seeks to refund some or all of the fines to the ticketed drivers.
Source: DNAinfo Chicago