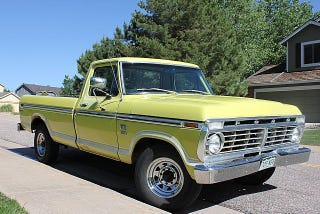 AWWWWWW YISSSSSS! So my friend has this bitchin truck. (Not pictured) It's a 2WD 1973 Ford F250 with a 390 and a three-speed manual trans. It's also booger green with a fresh holley carb, slightly taller shocks, headers and a new floor welded in. He lives in Spokane and has offered to sell it to me for $1,500.
I'll be in Spokane for a wedding (not my wedding) in July and I think I'll buy it then and drive it all the way back to Toronto. My friend has owned the truck for about a year and it's been a reliable driver for him.
Things to do, figure out how to import an old vehicle into Canada, figure out if this thing has appropriate rear gears for the highway and then hit the road! In July of course.
I'm so excited! More on this as it develops.