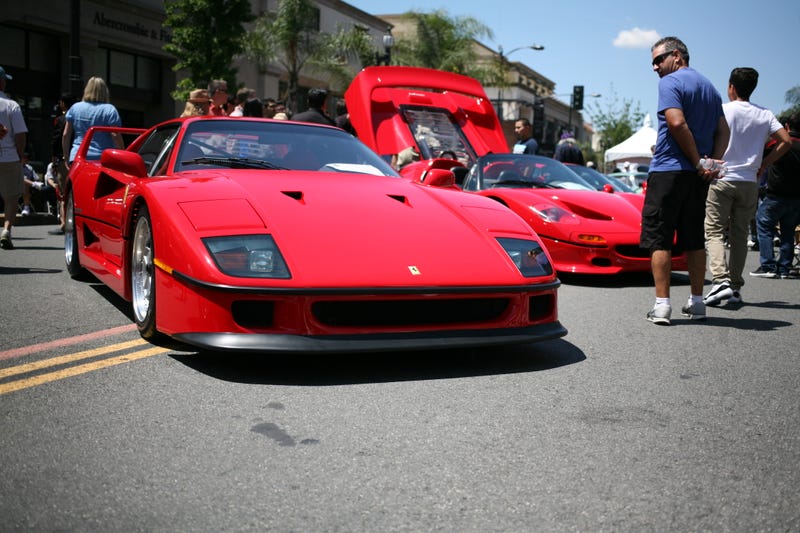 First, the cleanest 355 I've ever seen. Manual, of course.
458s top going up
There were TONS of 308/328s out today.
All, of course, were mint.
Testarossa! There was another modified example further down, but I didn't get any pictures. It had polished wheels too, which just looked.....off on a Testarossa.
That front overhang is ridiculous.
512BB!!! It had under 1000 miles since new.
Those fog lights. Glorious.
One of around 6 or 7 gorgeous Dinos present that day.
The 365 style door handles are great too.
The mirrors on a 328....so 80s...
See that Saleen S7? It belonged to Paul Walker.
The world's most jumbled interior. Seriously. It's basically a slightly better assembled kit car.
Center lock wheel are the best.
This isn't one of Ferrari's best designs.
Classic Koni shocks.
Speaking of awkward designs...awesome history though
Another 512 BB
I believe that would be a Ferrari 250 GT convertible. Next to a 288 GTO...
...Next to an F40. And F50. And Enzo.
That's straight up porn there.
Judges gonna judge!
I'll take the left one please!
Such a perfectly sparse interior. It was very interesting to see how much more streetable each generation got.
I wasn't really able to see the carbon weave on this F40.
Baby goes here.
If you look in the bright spots, you can see the weave of the carbon through the paint.
ENZO!
Center lock wheels everywhere!

The TheFerrari with a strange stripe.
Exposed carbon is glorious.
The shape is damn perfect.
275 GTB! The hood is so looooooong
Midnight purple V12 Vantage
Carbon ceramic brakes
And lip stick too.
This was a fully legalized and CA legal Euro model Enzo.
No idea what was providing light on the pedal box.
Another F40. Yes please.
On the outside, a 996 GT3.
Citroen SM, also on the outside.
Mulsane with an Armenian flag to commemorate the 100th anniversary of the Armenian genocide
The wrap job was odd though.
One of the rarest (and best) 599s ever made, the GTO!
Italian-grade zip ties
You've heard of the McLaren F1 Long Tail? Ferrari 365 Long Tail! (Or GT, as everyone else calls it)
Another fabulous shape, 365 GTC/4. Not as iconic as the Daytona, but still great.
The teardrop shape of the windows is one of the best shapes too.
Stock vs. modified Dinos
Covered headlights! It's almost reminiscent of a Porsche 904
Removed bumpers too.
The background holds the real stars.
I love the placement of the chassis #
This is apparently one of only 4 made in this color.
It was packed.
One of the best plates ever. This thing looked well used too, and came to the show rocking plenty of dirt.
Paul Walker's S7 in the background again
Pretty sure I saw this car parked in Malibu about a month ago.
Wood rimmed wheels everywhere!
Going broke in style is the best way to go broke.
Somehow the shape of the Enzo is even better under the cover
45th anniversary GTR!!!
Honestly, just looks like the old man edition (especially those wheels)
Modified 348!!!
I hear those Speedlines are a massive pain to find.
I LOVE GOOOOOOLD
Down on the street....
TURBO
S2000 on Enkei RPF1s
Also spotted a Carrera GT!!!