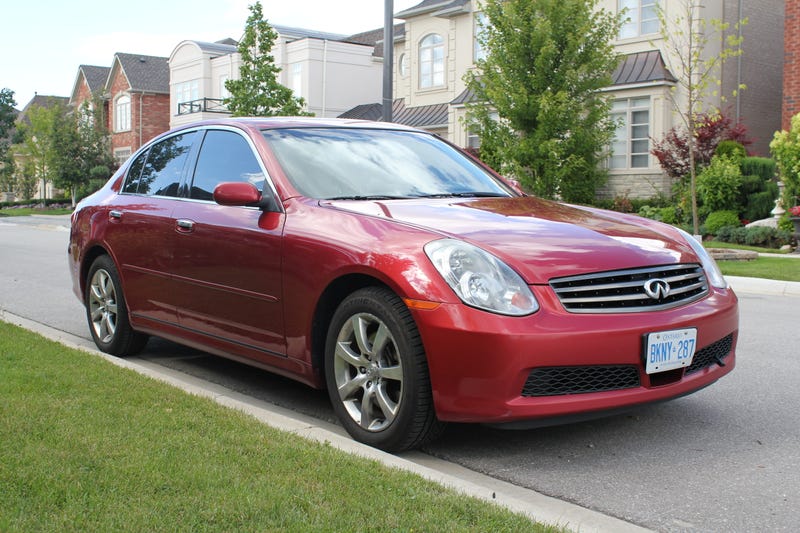 I want a new car to replace my '06 G35x. I also don't want to sell my G35x because the idea of letting her go for the $4 - 5k she currently commands makes me a little sick. Yes, the mileage on her is kinda high but she runs great and is in good condition and 280 HP/270 ft-lb/AWD/leather interior/dat Infiniti noise hnnng. So recently I got the idea of keeping the G around as a winter beater and getting something for the rest of the year.
This is interesting (to me) because prior to this notion I was considering only AWD cars such as the STi, Golf R, and now the Focus RS. I'd be happy with any one of these but I have a few issues with each: I like the STi way more as a hatch which isn't currently available and what's with the 7-year-old engine?; Golf is a bit too subdued and has only ~10 HP more than my G; the RS is a hot car but also has a high price point in the Canadian market. Some other options include slightly older examples of the S4.

So if I keep my G sedan suddenly the list of cars I can consider greatly opens up to include RWD cars like the Mustang, Camaro, Challenger, a bunch of Bimmers and Mercs, etc. My only requirement is a manual trans and something that can be easily spotted on the road.
This purchase is maybe a year or two out but I'm just looking at my options. I have a motorcycle and in the summers I ride my bicycle to work as much as my Kawasaki and car combined. So I want a car that'll put a smile on my face for $30 - 40k CAD. I would also need to find storage for the car I'm not using, but at roughly $100/month I think it's worth it to preserve the new car from dealing with frigid temperatures and salt on the roads. Speaking from experience the winters have not been kind to my G and I wouldn't want to subject a newer, nicer car to the same treatment. I'm justifying this extra expense by telling myself that I would save around $1200/year in resale value and maintenance costs on the summer car.
Anyone currently living the winter beater life? Thoughts on my choice of cars?