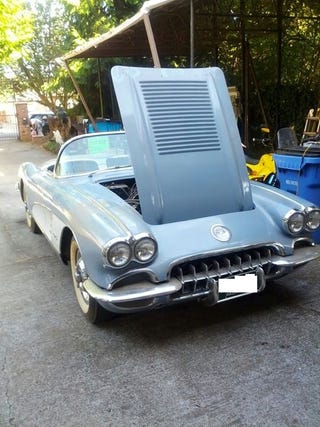 This beauty needs no introduction. But if you're a one on the scale of how much a Jalop loves cars - one being a person who has no f'ing idea what this car is - ten being a person willing to break up his family by hiding financial problems due to a car/s, its OK I'm a seven on that car scale and I'm here to help you.
This beautiful car ladies and gentlemen is a 1959 Chevrolet Corvette. It is owned by my mentor, we'll call him "Bill" to protect his identity. Bill is an awesome guy who's lived a ton of life. He's taught me so much by simply leading by example. He fought in the Korean war, managed a prestigious night club in Manhattan and even worked in the medical field. Now he's supposed to be retired but he still works every day. A real life hero, in every sense of the word.
Enough of the back story - This is Bill's super car. He saved up for this car working everyday managing a nightclub in San Fransisco. He did everything from dishes to hosting to bar-tending, whatever it took. When he could finally afford the car, it wasn't a surprise to him, he worked hard for it. He knew he could seriously do whatever he put his willpower to.
Now before I started dating Bill's daughter several years ago, the Corvette had been sitting for a few years. I would come by in my 1988 Jaguar XJ6 and we'd talk cars. He helped me rebuild the transmission on the Jaguar when it started slipping (an experience I am eternally grateful for, Bill is seriously like a 2nd father )
I also helped him and his son assemble this sweet trike.
The projects on my Jaguar and the trike rekindled his love for classic cars. Bill pulled out the Corvette and got everything cleaned up for the first time in years a few summers ago. Bill babied this car driving it less than 2000 miles a year, prepping fluids and storing in a sealed garage each winter so the car was in awesome shape. He appreciated what he worked so hard for and protected it. He tells me of all the great memories he's had in that car with friends and family; if he sold it today for the price he bought it for back then, the memories would be worth it. I want that. Because I love cars. And this is why I buy cars from Copart and do all the extra things I do. My super car dream is a $50K Bentley GT
Bill is from a generation which has something I feel is missing from ours. Know your limits but don't be afraid of the hard work. Never be afraid of the hard work, because it really does pay off. I'm close to reaching my goal and I wasn't only selling cars. I work full time as a web designer making peanuts, I only do it because I love making websites. I also buy and sell iPhones and iPads on Craigslist. I do odd jobs around town fixing computers, designing search engine marketing campaigns, volunteering at charity mixers to meet web design clients. It really comes down to how much do you love cars? How much time are you willing to invest to buy a super car? ANYONE CAN BUY A SUPER CAR. But its really up to you.