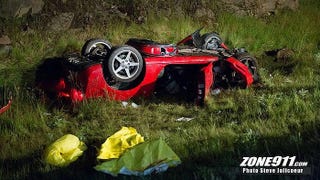 Two Canadians died when their C6 Corvette hit a moose on a highway that passes through a wildlife reserve Saturday night.
From CorvetteBlogger.com:
After the collision with the moose, the Corvette continued rolling, crossing the median and the northbound lane and entering a ditch. Eventually, the car flipped over onto its roof after hitting a stone wall 150 feet away. The victims had to be removed from the car with the Jaws of Life.
This is not to make light of these deaths. It's really unfortunate that this happened.
The original report is in Quebec French but it seems an estimated speed at the colision wasn't reported. I imagine it was quick, though hitting a moose at legal highway speed would be unpleasant in anything shy of a large truck.