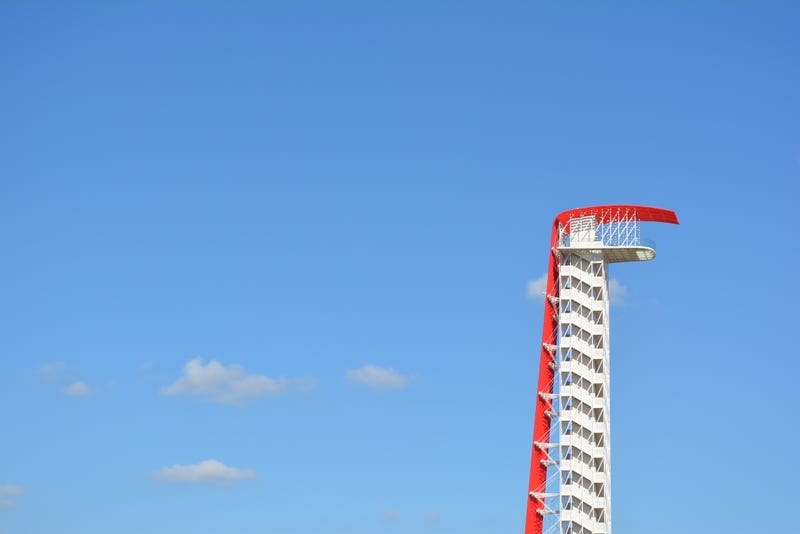 COTA was totally trashed this morning.

In contrast to last week however, today's weather at America's most advanced track has been flawless, welcoming hundreds of yellow-vested workers to attack the cleanup job with Texan bluecollar tenacity. Already the facilities are looking better.
Many of the crumpled carcasses of tents and other temporary shelters have been cleared away by now, and both tunnels have been cleaned of the mud runoff and are open for business. These people are awesome. If they keep up this pace, the place will look brand new by race day.
After we were finally installed in the infield parking (the lower paddock is still being serviced for flood damage, apparently), I helped unload the car and then took off in a golf cart to find two things: my press creds and a shower.

I found neither. The media center was being stripped of its flooring and the lowest foot of drywall to prevent mildew, and the showers were nowhere to be found, but I was able to give myself a tour of the grounds, and since I was unchallenged, and since no one got close enough to take in my road odor (roador?), it wasn't a problem.
Here's what I saw on my quest:
Part of the tunnel wall had collapsed with the flooding.
The grandstands were disheveled.
Apparently there was no touchdown on Friday, but there might as well have been. The wind was strong enough to hulk out on this barrier.
These puddles are everywhere, presumably having leaked through canopies loosened in the wind.
A postmodern statue of a dead dragon?
Check out the legs on that table.
This was on the second floor of the paddock club. It couldn't have flooded, but it definitely got soaked somehow.
These are all temporary buildings, as you probably guessed from the F1 team names up top. I heard people speaking German. Note the legion of safety vests in the distance, filing in and out of the Media Center, where the most work was going on.
And then I stopped taking pictures of things that were wrong, and started on things that were right.
Oh no. Tech inspection for the SVRA is right below this balcony.
Oh noooooo....
All the bodywork is off. I certainly can't take a picture of that. Noooo...

There doesn't seem to be any objection to my adopting the Paddock Club terrace as today's office. I think I'll just move in here.
Applause again for these workers. It's a new day.