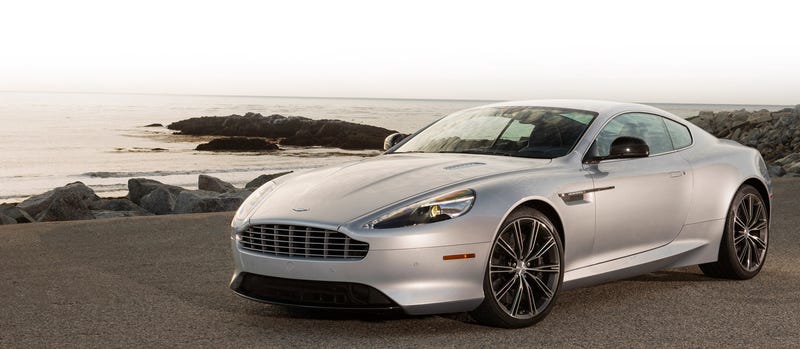 On March 27, 2014 Aston Martin submitted a request to NHTSA asking that two car lines, the DB9 and the Vantage, be exempted from new crash standards (pole and moving deformable barrier test; FMVSS No. 214.) adopted in 2007, which go into effect September 1, 2014 (hardtops) and September 1, 2015 (convertibles).
On April 10, 2014 NHTSA published the request from Aston Martin to the Federal Register. In that request Aston Martin describes a very sad state of affairs.
First, what is FMVSS 214 and how did it change.
On September 11, 2007, NHTSA published a final rule that upgraded Federal Motor Vehicle Safety Standard (FMVSS) No. 214, "Side impact protection," (72 FR 51908, Docket No. NHTSA-2007-29134). Until the final rule, the only dynamic test in FMVSS No. 214 was a moving deformable barrier (MDB) test simulating an intersection collision with one vehicle being struck in the side by another vehicle. The 2007 final rule upgraded FMVSS No. 214 to add a pole test to the standard. The pole test requires all vehicles with a gross vehicle weight rating (GVWR) of 4,536 kilograms (kg) or less (10,000 pounds (lb) or less) to protect front seat occupants in a vehicle-to-pole test simulating a vehicle crashing sideways into narrow fixed objects, such as utility poles and trees. The pole test requires vehicle manufacturers to assure head and improved chest protection in side crashes for a wide range of occupant sizes and over a broad range of seating positions.
Poor, poor Aston Martin
According to the automaker's request their goal was to have the two models updated to comply with the new changes by 2014, but those models were delayed. Along with sharing their planned good intentions they also "emphasize" that "two of the four cars we make will be in compliance" with the new standards. 50%? Not bad, but in grade school that's still an F.
Aston goes on to state 4 key reasons it is experiencing "economic hardship." While they list 4 reasons they are all the same reason – no money.
Global recession.(Ferrari laughs at this!)
No access to resources of a major OEM.
R&D money must come from operating cash, which is limited.
Lower sales of cars means, oh yeah, cash is limited.
Aston Martin isn't selling cars, which means Aston Martin isn't making money, which means Aston Martin can't invest in new cars, which means Aston Martin can't meet new safety standards.
Regulators give automakers years of lead time, and smaller automakers (less than 5,000 units) even more lead time, to ensure they can engineer new standards into their new models. But when an automaker can't afford a new model – they waive the Economic Hardship Flag and hope for a waiver.
Under the heading "Future Cash Challenges" Aston explains their planned updates to DB9 and Vantage were delayed because, again, cash is limited (see a theme?).
During 2012 Aston Martin secured a £150M capital increase into the business, the monies generated from this were to repay the short term borrowings utilized in 2012 and help fund the next generation of vehicles. This capital increase did not include monies for FMVSS 214 compliance for DB9 & Vantage car lines as the next generation of models were originally planned to be launched in August 2014.
What happens if NHTSA denies Aston's request?
Simple – for two-three years (hardtop 2016/ convertible 2017) Aston Martin will only be able to offer the Vanquish and Rapide in the U.S. It's important to note that in their request Aston points out that in the past NHTSA has granted similar requests from Koenigsegg and Lotus regarding a n economic hardship bridge to new safety standards.
It seems ironic to use the term economic hardship when dealing with such an extravagant automaker like Aston, Koenigsegg, or any of the other automaker that routinely build quarter-million dollar cars.
And then there were two.
I can't picture any business case where losing half of your lineup can have any positive results, especially when your financial situation isn't exactly good. Aston Martin says that the total number of non-complaint vehicles it will import (and hopefully sell), should NHTSA grant their exemption, is 670.
If NHTSA denies the petition, which I don't think they will, could this be the end for Aston Martin in America? Doubt it. At worst, if this request is denied, it could spook investors to the point where they get worried and put the automaker up on the market where some very rich person(s) in China would take majority stake in the company.
Do you think Aston Martin could survive in America on two models? Further, is the brand still relevant in America? If you ask me what they really need is a SUV and an entry-level roadster. While I say that in jest, I don't think I'm that far off.