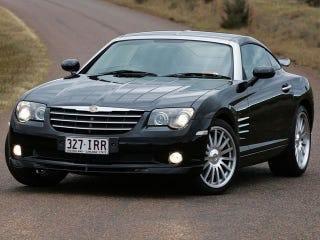 So on my drive in this morning I was stuck behind a Crossfire and I have to admit I really do like the back end of it. I'm also the guy that likes how the back of the Morgan Aero 8.
But anyways it got me thinking, could the Crossfire make a comeback as Chrysler nor Dodge have a sporty coupe (Challenger is a muscle car and Viper is an old supercar really)? Let's take a look at the parts bin they could dig in to...
Chassis: Alfa Romeo Giulia
Use this as your basic underpinnings. Shorten up the interior space and you can probably mount the engine further back for a front-mid setup. I think the Crossfire should be a smaller, cheaper Corvette with a bit more brute force than finesse.
Base Engine: 3.6L V6
Take the 3.6 out of the 300 and either make it a twin turbo or supercharge it. I'm sure the parts exist.
Pair this with your choice of 6-speed manual or the 8-speed auto with paddle shifters.
Should be roughly 350 hp.
Price this version between $38-43k
.
.
SRT Engine: 5.7L V8 Hemi
Next Step up would be the V8 model and just leave it NA. This would be the volume seller.
Again offer this with the choice of either manual or auto.
Should be ~550 hp.
Price ~$50-55k.
.
.
Hellcat Version: 6.2L V8 Hemi (because of course)
Should be 700+ hp and priced ~$70k.
Interior Trim Levels
Only offer it in three trim levels:
Basic Cloth Interior (only offered on the V6 model).
Leather Seats and soft touch interior (only offered on the V6 and SRT)
Recaros and alcanatra interior (available on SRT and standard on hellcat)
All together they should be simple interiors with a few gadgets to keep the masses happy. I have no problem with cheap hard plastics in the most basic. A head's up display in the performance interior would be nice. Inevitably there will have to be a touchscreen, though Android Auto and CarPlay could fix this. HVAC controls should be analog and keep everything very simple.
Body Styles
Only offer it in hardtop and targa (targa on V6 and SRT only).
Exterior Looks
Take the front end styling from the Firepower Concept car from 2005 that would be a vast improvement over the original:
It doesn't look too dated and they could update it to look more like an Audi grill.
Keep the active aero spoiler on the back but make it a little beefier as the previous was a bit wimpy. On the hellcat version put a wide-body kit on it to keep the larger width rear wheels contained and an aggressive front splitter.
Bonus:
Offer a limited edition race ready version that would have a stripped interior besides two buckets with full harness. Have it come pre-caged and fitted with a endurance fuel tank. Get rid of the active aero in favor of a fixed wing. No A/C, no stereo, etc. Boost the horsepower to ~800 and offer it only with a race oriented paddle shifting 8-speed. Offer this version only in some classic Mopar paint schemes.
What Do You Think?
Personally I'd buy a base model wait 10 years to pick an SRT up and mod it for auto-X/track days...