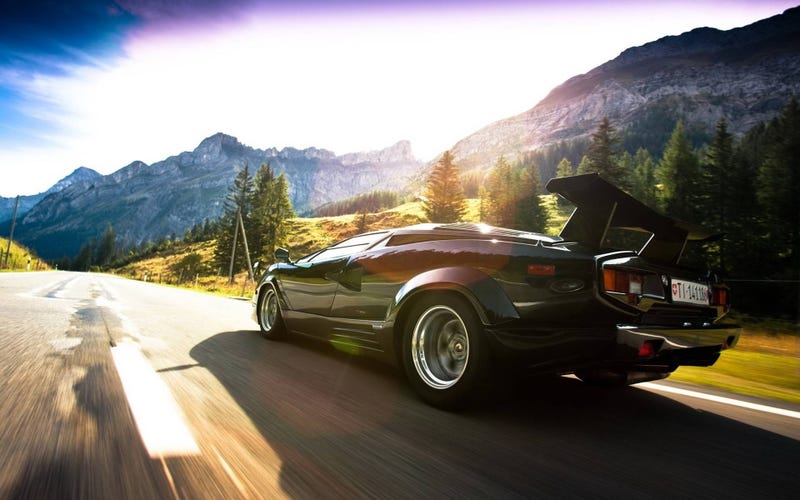 They are both bonafide poster children and extremely capable exotic super cars. That's cool and all, but which one is better?
The Countach lived a long life from 1974 up until 1990. It is unmistakably iconic with its shin crushing wedge shape and pain in the ass backing up method. Only 2042 of these puppies were built.
The same Bertone studio that did the Miura, did the Countach. It was designed by Marcello Ghandini who had an eye for design, and not so much for ergonomics...which is totally fine by me. Its outrageous and awesome.
The Countach came in five flavors: LP400, LP400s, LP500s, 5000QV, and the 25th Anniversary Edition.
The last and most powerful Countach was equipped with a V12 5.2L DOHC with 455 Bhp and 501 Nm. 0-62 km mph in at 5 seconds flat with a top speed of 183 mph.
The Ferrari Testarossa
This car lived on from 1984-1991 with its 512 TR iteration from 1992-1996. The Countach already had ten years when this little whippersnapper was introduced. Pininfarina was the design studio that sculpted this beauty. It's side louvers are iconic Testarossa. It had a wide engine from the get-go, made wider by the fact that Ferrari crammed two radiators on either side of it. 7200 units were made while it walked this planet.
It had a 4.9L Boxer 12 cylinder engine with 4 valves per cylinder. It gushed out 390 Bhp with 452 Nm and a 0-60 time of 5.3 seconds. Top speed came around 180 mph give or take.
The interior definitely looked more "homely" compared to its rivals.
So the question remains. If you could ultimately choose one of these cars. Which one would you take to majestically grace your garage?