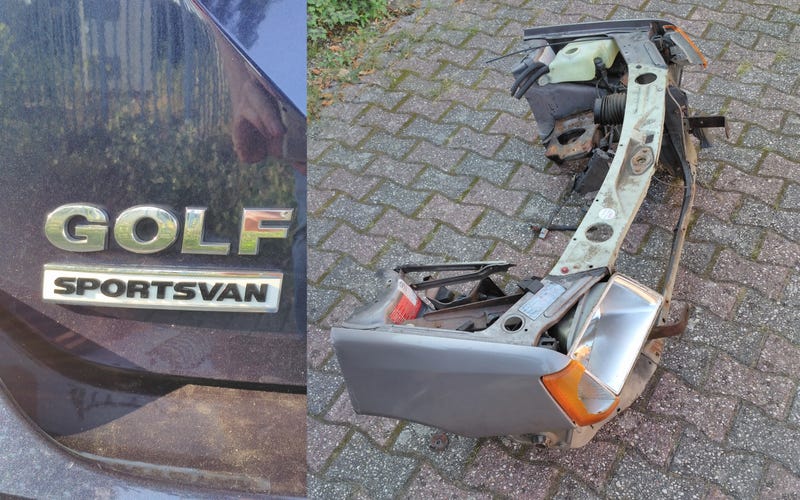 Yesterday I had to hand in my company car for some repairs. I got a VW Golf Grandpa "Sportsvan" as a courtesy car. The perfect car for a junkyard run! 2 transmissions, a front end and a few other parts fit just fine.
For my engine swap project Peugeot 205 CTi I first visited a local junkyard specialized in French cars to get an engine mount from a way too nice and previously untouched 150k km 1996 Citroën Xantia 2.0 with slushbox (the latter being it's probable death). I felt really bad for touching that Xantia. It looked like it could drive right off and even the battery was still hooked up (dash clock still working). Such a clean car and, other than the transmission, a desirable one too in my opinion.

I then went an hour further to a Peugeot 205 specific place. Their business model is stripping the cars and selling the parts, while also and working on running 205s. I got two Peugeot 205 transmissions; one from a 1.9 GTi, one from a turbo diesel (for its longer 5th gear). I also got a front end that was sawed off a donor right in front of me.

The front end donor was the one in the middle of the picture above. It was located at the back of the lot, among the cars that were stripped of their usable parts and which were simply scrap metal at this point. The front end was rust free though.
The engine was still in the car. The subframe however was not. I unbolted the struts. The guy then removed a few bolts and the engine, still attached due to some wiring, fell through where the windscreen of the car below it once was. This was his cue to get the saw. Three minutes later I had my front end.
I need that front end due to poorly repaired damage. It came with better mounting rubbers and a cleaner washer fluid container as well, which was a nice bonus. Also, for those not familiar with 205s, it came with a factory jack (which I lacked). Directly behind the right headlight. Other parts I got: lock set (1 key for all the locks...) and a relay box. They were simply in their warehouse, so getting those wasn't very eventful.
As my daily driver (a Peugeot 406 coupe) isn't very useful for transporting these large parts and because I cannot drive my company car (Ford Focus wagon) for private use due to tax reasons and a GPS black box, I had a problem. This was solved when the Focus got some damage due to no fault of my own. While it got repaired and I got a courtesy car. No GPS box in that, so I could do with it as I pleased. I used it as a parts runner! And yes, I did it in my own time and filled it up with my own cash afterwards. What I got was a VW Golf Sportsvan 1.2 TSI with DSG. What amused me was that the guy giving me the key to the car asked if I knew how an automatic transmission works, as he encountered many people who had never driven one before. Odd that they used autoboxes in courtesy cars to begin with.
The Golf Sportsvan 1.2 TSI DSG was less than a year old and had 18k km on the odometer. My opinion of the car, summarized in 3 letters: meh. For those unfamiliar with the Sportsvan; it's a less sporty, taller Golf. Nice interior (much better than my Focus), the 7-speed DSG with flippers was fine for an automatic, but the steering and the suspension were clearly aimed for someone else. The engine is a tad underpowered, but otherwise fine. It lists in corners, dives when you brake and the steering is numb. And then there's that exterior. At 33 I'm way too young for this.
It did one thing well though. It housed my parts.