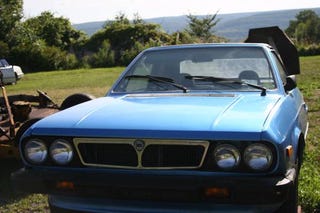 This is what $3500 worth of Zagato looks like. It's the kind of thing old timers will scold you about: "Good luck finding parts for that..." This is the digital age though; the internet is just one of the many things baby boomers have trouble remembering. You can probably find the parts. But the rusty bits you'll need to attach them to? Good luck with that.
This thing has the kind of "patina" hot rod guys are foaming at the mouth over these days. Slap a new drivetrain into it, restore the brakes, give it a clear coat, and sell it to a delusional suburban dad for $40,000
Just fucking hilarious. I can't believe someone is trying to sell this thing. I'd love to check this out just to meet the character who is trying to sell this heap. How are you even supposed to get this thing out of there? Bring a bobcat. Or better yet, an excavator.
Yes, that IS a lifted AE86. "no bullshit! I know what I got!!!!!" he says. Too bad he's starting out with bullshit to begin with - the idea that he's got something is totally ridiculous. Does he really mean to suggest that someone might reverse engineer this majestic thing into a drift missile?
Even after reading the seller's description, I'm not sure I know what a "jitterbug" is. But I love it. From the rusty chains on the rear tires, to the partially rotten wood floorboards. It's amazing. I'd love to park this next to an EV charging station.
An American LaFrance! I think these are pretty cool. But I'm biased - my great grandfather, Archie Covell, worked at their plant back in the day. Even if that wasn't the case, it would be cool anyway because it has a 671 Detroit Diesel powerplant, and two stroke diesels sound outrageous.
An ancient Audi! So it's called a DKW. But you can still spot a handful of quad ring logos on the car. The exterior is trashed, but the interior is in slightly better condition. Slightly...
Are you an idiot? Buy this $3500 Ferrari, and watch it rot some more in your lawn, until the day comes when your wife tells you to get rid of it or lawyer up for a divorce! But hey, until then, you can tell people you own a Ferrari.
I hesitate to call anything on this list a "good idea" but this little Fiat sure is cute. And rear engined. Depending on how rusty it is, you could justify taking this one home! That said, nice examples of these aren't particulary expensive either. Yet...