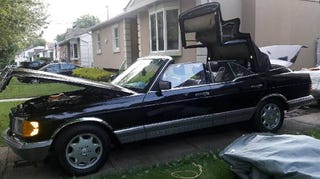 Yep, that's exactly what you think it is. An eighties S Class with the top hacked off by an obscure Swiss coachbuilder. Per the seller: "This car is a great investment can't be used for mover studios or weddings or photo shoots.is a one of a kind. Has lots of class." In 2009, Jalopnik ran a story about the Dutch royal family restoring one of these, which is pretty much the only thing that comes up when you Google this car.
The listing's description is questionable and the photos of the car are too, but the seller did include a variety of vintage ads, and even an old shot of the Caruna shop. Fascinating stuff:
I tried looking into Caruna to see what else they came up with, and found these three oddities:

This is a "Caruna Spyder" which was built on a 914 chassis. The front end is unbelievably shocking. Look at those lights, and the extreme angle of the nose! The rear though? It just looks like a piece of rooftop HVAC equipment.
If you thought that was sacrilege, this is even more offensive: it's the 911 based "Staccato." I don't think these were ever put into production. Modern photos were nonexistent.
And now, a curveball! This Peugeot 504 targa is pretty cool. There are plenty of photos of these on the internet so presumably they were one of Caruna's most successful endeavors.
Surprisingly, the company was in business until 2010 according to its German Wikipedia page. At that point in time, they had been reduced to a manufacturer of sliding door motors (Schiebetürantriebe) and electric sidesteps (Cassettentrittbretter) for vans. This is definitely the strangest automotive rabbit hole I've fallen down in a very long time, and also the most useful my German degree has been since I graduated over 3 years ago. Thanks Craigslist!
Here's the link to the listing:
 https://newyork.craigslist.org/brk/cto/6199942953.html

and the Jalopnik article:
http://jalopnik.com/5292814/dutch-royal-family-restores-1985-mercedes-380-sel-caruna