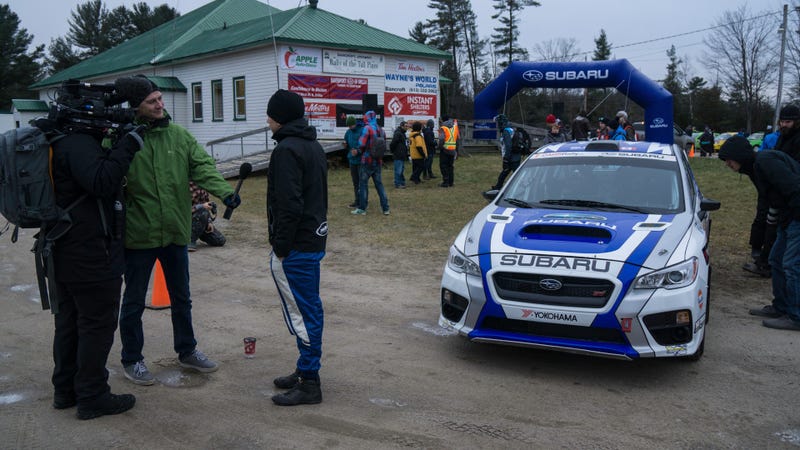 I'll be honest, this was my first stage rally ever and going into it I had no idea what I was doing. Nope, didn't even dress properly for the 0C weather but didn't care because rallycar! Actually I was pretty excited to see the Subaru Rally Team Canada STI rip around Bancroft more than anything, and depending on how things go I may make the trip south for Sno*Drift come January.
So, leaving Toronto at 4:30 AM, I made the long drive north to Bancroft - knowing that some of the province's twistiest roads are up north in cottage country, I picked the twistiest route which just so happened to be the shortest. Boy, was that a good decision. Sometime after Hwy 7, the route takes you Northbound on Hwy 28 - over 100km of country road that twists and turns through the Kawartha lakes region and later through the massive hills shortly after. All along the route are tall pines and bodies of water that justify why Bancroft is one of the most picturesque regions of the province. Do take it easy on this route since there is little to no illumination though if you time your trip right, you can approach Bancroft just as the sun rises over the trees at around 6AM.
Heck even the road leading south from Bancroft to Rally HQ was twisting, and better yet it was running parallel to a small river (creek?) all the way down.
Service Park & Rally HQ (7:00 AM)
I was probably one of the first spectators to arrive at Rally HQ, this year at Dungannon Recreation Centre, and was instructed to park on the side of the road, but still within walking distance of the park. Subarus are definitely popular around these parts, and it didn't take long to find one wearing a SWRT livery; heck, I even followed the Targa Newfoundland car in on the way down to the HQ.
Rally car for sale! Unfortunately, team MaNicK didn't run the car at all over the weekend (or the season, IIRC) and hopefully it finds a good home over the winter. It was a pretty competitive car last season, and I'm sure we all know just how strong these GD chassis are.
There was rain on the Friday before the rally and during the shakedown, but no visible snow on the stages come sunrise. However, it did rain overnight and froze in the darkness, giving competitors a nice surprise in the morning. As you can see below, teams all over the paddock broke out the ice scrapers!
Subaru Rally Team Canada, operated by Rocket Rally Racing, had gone into this rally having won all three titles (manufacturers, drivers, co-drivers) and instead used it to test new parts (pulling a McLaren-Honda here, eh?). Judging from all the dirt on the car, I'm guessing that shakedown went well; was really excited to see L'Estage and Ockwell rip around these extremely fast stages.
A team I've seen before, but I never did get around to meeting the drivers. ClearWaterDesign also runs a car in the Canadian Touring Car Championship, but this was my first time seeing this Evo V.
Most of the people in the service park, and on the stages, thought this little thing was a Yaris. Little did they know that they were mere metres away from WRC spec machinery - yes friends, this is an R5 spec AWD Mirage! Revealed in 2014 but I haven't been following which teams were running the car and it was largely unknown to me.
If it's not a Subaru, it has to me a Mitsubishi right? Always good to see these early 2000s Evos.
Ah RPR car... I had actually seen this car prior at the Toronto Subaru Club Hyper Meet (at the Subaru Canada HQ of all places) and was excited to see them on stages. The type of driver that goes flat out this one, and I`m sure a GC prepared this well helps with that.
There was a good mix of older and newer machinery around the park, and I can see why the Fiestas are such a popular platform for those wanting to get into rallying on a budget.
There was a nice selection in the regional division as well; this Galant was competing in the production 4WD class alongside a 90s Legacy, among others.
VW Golfs were the most popular 2WD class car by far, and this example traveled all the way from New York to be here!
This car might look familiar to some of you; actually, Team O'Neil sponsored a lot of the entrants present but from what I remember, this was the only female/female combo and they did pretty well. Now that I think about it, there really wasn't a GC that disappointed...
Took a detour around the back of the park to see what people were using for recce vehicles - I bet this one was a fun drive!
This man is doing it right - forget turning your 240 into a drift car, you'd have much more fun in the dirt!
Yup, another Golf, only this one was driven by the reigning Open 2WD champion; Dube has definitely perfected his craft, and you'd never guess that this little thing was 2 decades old and makes a mere 115 hp. Impressive stuff.
While some teams opted for open tents on top of their cars, others preferred a more... stylish display, though it was pretty chilly (~2C) leading up to Park Expose and I bet you there's a heater under there.
When I saw the 2BritsRacing trailer, I was expecting to see their GD STI but a first-gen Focus is equally cool!
I was surprised to see this car here, especially after he rolled the car in the Rocky Mountain Rally, but kudos for getting her back on the road! Was looking forward to seeing what this Rally America driver could do on this end of the country.
The only Evo Xs in the field - one in Open 4WD and the other in Production 4WD. Quite nimble cars given their size and with the fantastic AWD that Mitsu developed. Shame they are EOL now.
Yup, this here is an Eagle Talon. I can't remember the last time I saw one of these...
Don't let this little GC fool you - this father/son duo possesses decades worth of experience and could easily challenge L'Estage for an overall win. As if the sheer number of gravel tires didn't give it away already.
Oh what a chilly morning. I can only imagine how much it took to keep all these cars warm.
Note the Jamaican flag - yes, this novice driver was about to take on some of the toughest rally stages in all of Canada! Not only did he have the training provided by Team O'Neil, but he had one of the best co-drivers in the sport - Nathalie Richard, winner of numerous championships in North America, and probably among the most experienced on these roads.
Some drivers were definitely more prepared than others... though if you travel up from the USA, I imagine you'd have quite a sizeable budget.
Either that or you're a factory team!
Parc Expose (8:00 AM)
By now it's still pretty cold and everyone has probably downed litres of coffee (maybe) but with the constant burble of rallycars, I'm sure nobody really minds.
This was the STI I followed on the way in; yes, this Subaru did in fact complete the Targa Newfoundland this year and was also one of the cars I saw at Hyper Meet. While I was pleased to see a car prepared by Can Jam Motorsports, it wasn't the Subaru that people came to see. The absence of the Beast, an orange STI that has been in the CRC for years, was hard to miss and was quite an odd decision, as the team is only 6 hours south of Brantford. Beland was having a strong season too, though he might just not have been available...
The Targa car didn't stay for long either, and I only just caught it leaving as I retreated to my car to change lenses; I imagine they were off to watch some stages as well.
Brantford also has a pretty sizeable OPP office, and sure enough they were at Parc Expose to keep people in line. Like Rally America, all the cars have to abide by the rules of the road during transit between stages but they don't have quite the same amount of freedom, as escorts are mandatory up here.
So much mechanical diversity!
The man himself - Antoine L'Estage, 8-time Canadian Rally Champion by this point, filming an interview for the CRCTV series to be released after the rally. I had a chance to chat with him briefly, but like many he was feeling a tad cold and retreated to the warmth of the HQ to the left.
Two of the other high-profile Subies in the field - though I had a slight bias towards the older GR based car. I want one.
All cleaned up after shakedown...
Similar to Vermont Sportscar, Rocket Rally also uses Method Race Wheels but with L'Estages sponsors, they are shod in Yokohama gravel tires instead. Those AP Racing brakes though!
But man she is a pretty thing.
All this picture needs is a GC and a GD to be complete...
A peek into the office - quite minimalistic, but very functional.
Note just how far the skidplate sticks out beyond the front splitter!
Amazing to see how far the RPR team has come - Norris and co had won the rookie driver of the year in 2013, and look where they are now!
The American teams gotta stick together, I guess?
The service area is pretty empty now that everyone is heading out for stages...
This cheeky little Escort sneaked in right before the ceremonial start - I nearly missed it too! It was only a matter of time before I spotted one, having seen so many Deltas in the months prior. Neat little car.
Ceremonial Start of the Rally (9:00 AM)
A few of the highlights from the start! A few awkward interviews later, and everyone was racing driving responsibly towards to first spectator points.
Stage A4 | Old Detlor (Southbound) (11:00 AM)
Clearly some spectators were prepared for the long day, and I couldn't think of a better way to hide from the cold than in a Westfalia camper either.
And so as teams entered Service #1, we got treated to an endless stream of sweeper cars... gave me a good chance to test out the lenses though.
Car #000... pretty sure they had two of these on site, for whatever reason.
Subaru had given out cow bells and vuvuzelas to whatever spectators wanted them; while fun for the first hour, they did get a tad annoying 4 hours in...
It was around this time that the commentators said the words that everyone dreaded to hear: "L'Estage has retired from the rally from some sort of electrical failure." Nobody really knew what happened, but I heard at a later stage that the car had caught fire. But no time to ponder on that...
...because just look at these sightlines! The southbound pass sends cars through a very fast right-hander into into a tight left kink over a small crest, then down a hill into the Iron Bridge.
The rally is supported by hundreds of volunteers, but only those highup get to hoon around an empty rally stage in a Polaris Rzr. These two had quite some fun, with the tail out in front of the spectators and all.
Broke out the 12mm fisheye for this shot - you get a vague idea of what the sightline looks like, with the tall pines for which the rally is named for in the background.
The Outlander isn't selling well, so let's take it rallying! - is what I imagine this dealership thought but for a course vehicle, it did pretty well - heck, even got a bit of a slide at times! The siren denotes the last of the sweeper cars and signals that the first competitors are about to start.
Anticipation ensues... spectators are still expecting the first car to be L'Estage, as the news of Subaru Rally Team Canada's retirement is still slowly spreading.
Lo and behold, it's the Vincents!
And with fresh roads, he slides it through the bend, spewing gravel behind him.
The 2013 Rally of the Tall Pines winners followed closely behind, taking an even tighter line that their suspension allowed. This car had the most ground clearance out of all the GCs, but wasn't the most powerful.
Three GCs in a row!? RPR this time, and making a very sideways entrance down the Hastings stages.
And even more sideways over the gravel - remember this car and this corner for later.
The Open 4WD class Evo X - check out that body roll!
Something about the old Evo 7/8/9 just looks so... right, coming down these stages. Either that, or it's the highlighter yellow.
Nick Roberts going through the stage, carrying noticeably more speed than any car previously. Also, car is still in one piece!
Oh the GR Hatch... I want one so badly. Seeing it rally doesn't help...
This is where I start to struggle with the manual focus, but slowly adapting to the speeds as the faster stuff goes by.
Simon Dube, the Open 2WD champ, throws his Golf around as if it was a 4WD car.
And the Mirage R5 - at first not blisteringly quick like the Subarus, but being such a tiny car, it does appear to be quite maneuverable. I imagine the pace note had a "cut" in it at some point...
Ah the other Test Racing Subaru - a bit off-pace of the Vincents, but the fastest GD in the field. Very well prepped judging from how well it was planted.
C'mon little 240, you can do it!
I imagine Team O'Neil does a lot of practice on gravel roads, so these boys must have felt right at home here.
The production Evo X is just as sideways coming out of corners as the open class car, but less speed coming out of the corners. Maybe a tad too sideways then?
The older Evos dont get quite as sideways...
Who knew Jettas could handle rally stages so well??
Team RallyErika looking strong after 4 stages, probably just behind RPR at this point.
Does anyone here even own a Talon?
The livery on this Golf does look amazing...
Pretty sure this car used to be red, but it does look good in the green. Would be better if it had other WRC goodies too!
A Gulf liveried bugeye - I just had to include this one!
Had a quick chat with a few of the volunteers before everyone rolled in; a bunch of rally enthusiasts all over the place - this one has the right idea!
The Mk4s just look so friendly!
For an old Galant, this one did look like mighty good fun (though I'd take the Legacy!)
And the Neon SRT-4 that has been here for years - actually looked quite at home on a rally stage.
End of Stage A4, the return of the course vehicles.
Stage A7 | Iron Bridge 1 (Northbound) (1:00 PM)
A minor break to off-load photos onto social media, change batteries and SD cards, and fill yourself with food and merchandise. 3 of last year's shirts for $10? Yes please! A quick look at the corner after all the cars have gone through and how much the gravel gets displaced.
Scroll up - pretty sure #000 wasn't an Outback last time; I bet they were comfortable in there though! Such luxury...
#00 making it's pass through the stage... saw a lot of this throughout the day.
Ah the Outlander again!
Vincents are just as sideways going Northbound as they were going Southbound. The car control through here just goes to show you how experienced the duo is.
A raised GC is starting to grow on me - just check out how much gravel it's shooting behind it! It was about now that I realized getting the focus as they leave the area would be a tad tricky...
Carrying similar speed, you can see how much the weight of the Evo X pushes it out from the apex.
Roberts still hasn't rolled it yet!
Rocket Rally definitely knows how to prep the GR chassis, having taken Patrick Richard to countless championships in such a car. The wants are real.
Dube still pulling out a substantial lead in the 2WD class.
The Mirage R5 that people still don't realize is a Mitsubishi! Still taking corners super tight, which probably cost them a bit of speed.
GDs and gravel just look so right together.
You go Walter!
Tiny Fiesta is tiny.
Actually, an Evo X would probably be just as fun to hoon around a stage as a GV STI, as long as you can get used to the size. The rear end always looked massive to me.
Remember when I told you to take note of the RPR car previously? Check this out. There is a small crest in the middle of this apex; notice how much the inner wheel is cutting and how much load is on the left side of the car.
At this point the rear end is sliding and spewing gravel, whereas the front end is just about to crest the bump - the front suspension is probably near the bump stops at this point.
And when the car becomes unloaded, it shoots the car up while maintaining it's sideways momentum. Still shooting gravel everywhere, probably the most out of any car; check out the rear inside wheel though. It's off the ground!!
And of course after that display, you just have to take the next corner the same way - gravel everywhere.
McConnell and Richard are still going strong! Keeping it nice and tidy.
The only oops on A7 that I saw - just a bit wide entering Iron Bridge, which clipped the left rear and destroyed that corner of the car.
Jetta!
"Eagle is a pretty neat name for a car brand, even if it is just a rebadged Mitsubishi"
GULF.
Stage B1 | Iron Bridge 2 (Northbound) (2:00 PM)
Ah yes, the infamous iron bridge - coming in at the end of a long straight, teams would have to pitch the car into a 90 degree bend over a very slippery bridge, then back onto dirt as they climb a steep left-right hill.