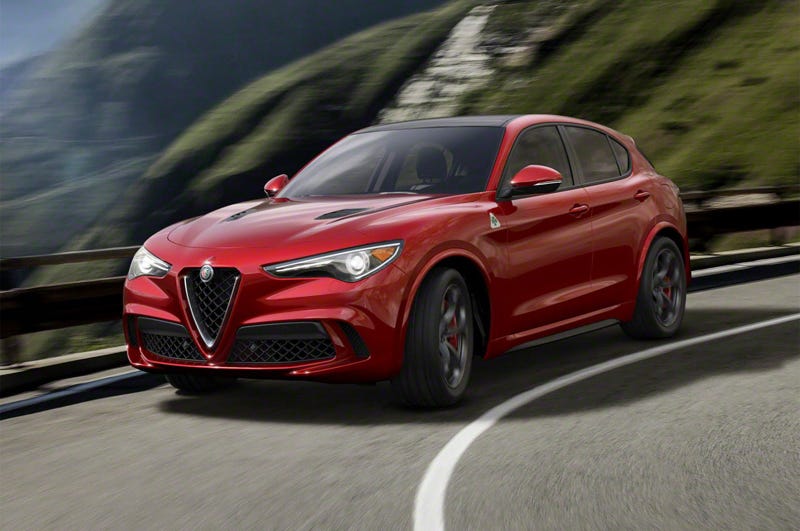 I shall continue to preach that we are entering into the greatest performance generation autodom will ever see! I'm telling you Oppo, start saving your pennies because 2020-2025 will be the best driving we'll ever get this century. We are coming up on the end of the transition period so let me point out some little performance CUVs packing around 500 hp! Stop making those gagging noises...

Remember years ago when the thought of factory small sedans making 500 hp seemed wild? When a 425 hp M3 was way too much power to keep in check without a digital tire gauge? How face-melting the C63 S, Giulia QV, and I guess we'll count that M4 that requires a squirt of Capri Sun were?
Well we know that AMG is going to drop a twin-turbo V8 into the GLC, that the F-Pace SVR is getting that supercharged 5.0L alongside the XE SVR (also known as the VR SEX), not to mention the Stelvio is already running the Giulia's 2.9L prom night fantasy 6-cyl. I mean doves fly out behind you, slow motion...just crazy man. Got lost there for a second. We even know that the X3 M is coming and that AWD system means the TPMS will be just fine handling more power. Hey, and how about that upcoming Range Rover Velar, which simply must get that 5.0L? Oh! Oh, and towel off my drooling face for that future Macan Turbo S #refresh!
Seriously, that's at least 6 RWD-based premium Highbodies coming to vaporize a mall parking lot near you before 2019! Just think about this, the 400 hp RS Q3 (with the wicked 5-cyl) may run with a GLC 63 but what about that GLC 63S, or the QV, or the SVR twins?!! By the time Infiniti gets their 400 hp, 3.0T V6 into a new generation QX50 it will only be an X3 M40i competitor.
The vehicular bane of our enthusiasm will be less spacious than your mother's RAV4, more expensive than your grandparent's first house, and all packing engines with more horsepower than a new Ford Raptor (and several with the correct number of cylinders, that's awkward!)
I say all this not to sell you on a crossover but for you to think about how much MORE POWER those hyperhatches, executive sports saloons, and heck even 12-cylinder vehicles will need to be. That 600 hp Bentayga is really going to be a terrible deal when your neighbor's kid gets more stares and leaves more tread in a 500 hp Alfa that's screaming like a Ferrari but looking like a punched owl.