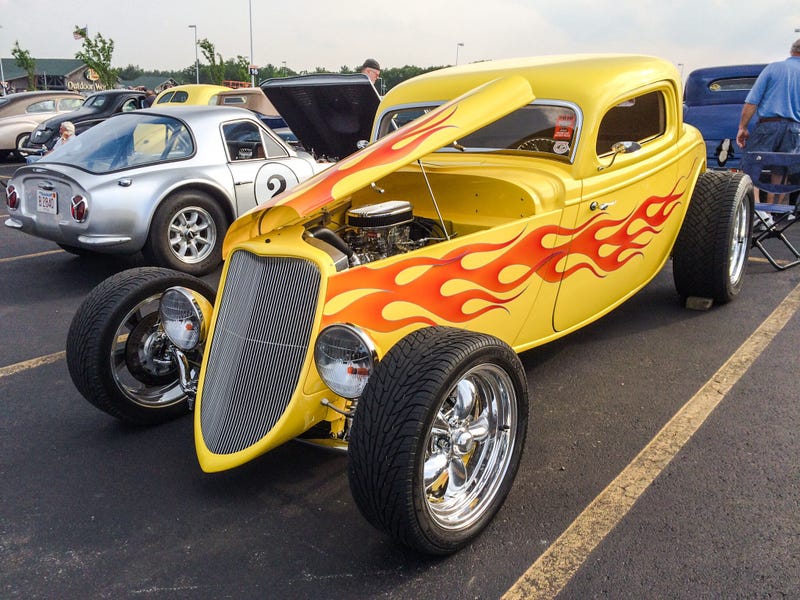 Here's a bunch of iPotato pics I took from last Thursday's cruise night at the Bass Pro Shop at Gillette Stadium. I touched them up with a Photoshop app I've got; I think they came out pretty decent for phonetography.
There was a new Z06 there with the seven-speed manual!
This sweet 930 looked dirty and driven!
I love this Cougar, it's here a lot. It's an awesome alternative to the classic Mustang.
RoadRunner!
T-Buckets are cool, but I don't think they're really my style. Not sure I'd ever own one or if I'd like driving one.
This rat rod was nuts. Radiator out the back...
Light switches on the dash...
And so many turbos! The motor was mounted right to the chassis too, feel that rumble
Since the radiator was on the back, there was no need for a grille up front. This gave this rat a pretty interesting look.
There were some serious truck nutz on this Unimog...
Obligatory $kaybait...
I approve of everything behind that chunky front bumper
It wouldn't have been a cruise night without the mint, vintage work truck.
Bonus $kaybait!! STRIPE DELETE!!
This looks like a blast to drive, who cares if it's a replica
Cletusbait!
Plum Crazy + shaker hood... yes please
Bandit/Takurobait
Buick T-type, Grand National...
GNX clon... wait, fender flares, grilles, wheels, badges...
Steering wheel, dash numb... DASH NUMBER?!?
Legit GNX!!! #363
Nice and clean Corrado VR6 with some classic Audi wheels
I dig this color combo
Speaking of color combos, green on black is severely underappreciated
This was the first ACR I've seen in person. It made the standard Viper next to it look like a garden snake. That's right, I resorted to a terrible snake analogy
Not feeling the wheels, but can't go wrong with powder blue
Old vs. New
Another classic Lincoln
I love classic Baracudas
Super clean Ghia
Awesome looking Scorriciorriro
The Torino SCJ might be my favorite muscle car of all time
Rollandbait
And my MR2!