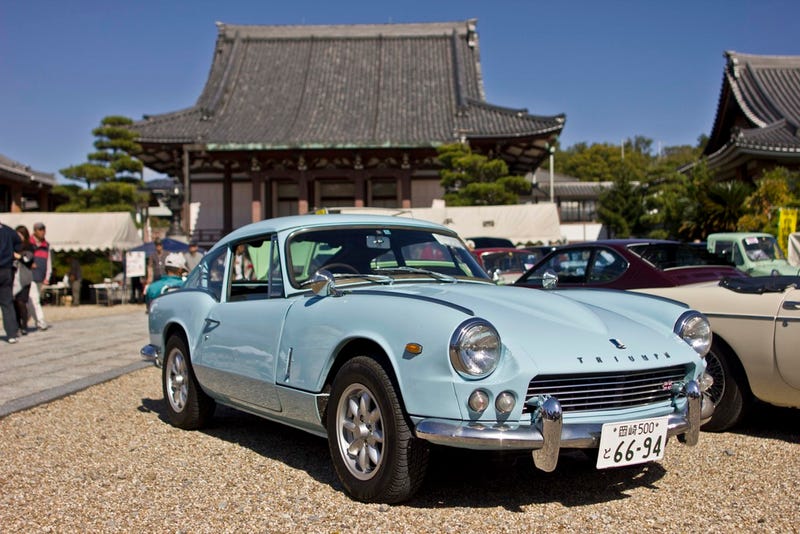 Today November 3rd, is a national holiday here in Japan, Bunka No Hi or Culture Day, and if there was one thing I hadn't planned this morning, it was to find a quite big classic car show on the parking lot where I rent a spot for my car...
As I was about to go get some groceries, I saw a couple of nice cars during the 200 meters that separate my home from the place where I park my car. The parking lot is owned by the local temple and once I got closer, I quickly noticed something was... unusual. CLASSIC CAR SHOW RIGHT NEXT TO HOME!!!
So I did what any car guy would have done: I immediatly forgot what I was supposed to do, ran back home to grab my camera and went to look at all the stuff that the my ô so awesome local temple had organized!
This time, I also did a little GoPro walk-around video ("little" but still 28 minutes long...) that I'll post at the end of the article. I talk while filming and I usually suck at this. So if my voice and commentaries are annoying, if I repeat the word "like" way too often and for no reason, if the gopro without a steadycam is unwatchable to you...etc etc, please let me know and I won't do it again, promise!
Anyway, photodump in 3....2...1...
Mitsubishi Lancer GSR
A couple of Toyota Crowns of different generations
Toyota Publica (s)
Toyota Sports 800
Toyota Carina Wagon
A few Isuzu 117
Isuzu Bellett 1800GT Type R
GNAAAAAAAHHHHHAAEERRRRRRRRRRRRRRRR
Some old Riley Sport car (1931)
Messerschmidt KR something...
What I think to be a Morgan with Moto-Guzzi engine... I thought Morgan made their own engines though, but maybe not...
I had to order one of those Moto-Lita steering wheel for a friend, damn are they expensive! (600$ average if I recall correctly)
Skoda 100
Isetta!!!!!
Mercedes SL280 Pagoda
Ferrari 308 GT4
Marcos GT
MgB
Alfa Romeo Giulia
R5 Turbo
Porsche 914
1974 911 Targa
Lotus Europa
Mini clubman 1275 GT
Triumph GT6
Old WW2 German Sidecar
Suzuki Fronte normal and Coupe
Subaru 360s
Cool work pickup
No idea what that is...
First gen Silvia next to a Prince 2000GT
Nissan Cedric Wagon
Datsun Roadster 2000 x2
Skyline Haksuka GT-R 4 door and 2 door... The 4 door model has chassis number #55
"Hello, I am here despite being utterly useless! Anyone want a charge? No? No one? Please..."
Nissan President
Started its life as a mini-scooter, finished like this...
Got food??
Kenmeri GT-R
Full blown rally car with a license plate... The guy had all its rally gear inside the car too. Considering the shape of the front spoiler, it's fair to say, this one can jump.
A Jaaaaaaaag
Another Crown, weird generation this time...
Kiiiill....me..... killll...meeeeeee
I hope you enjoyed the n-th car show coverage I've done, as promised, here is a little gopro tour of the whole thing where you can hear me talking, thinking the Giulia shared its plateform with the 124, mistaking a Toyota Starlet for a Mazda 323 (in my defense, this gen, they really did look alike lol) or say that the 911 SC was launched in 1978 instead of 1976!
Enjoy!