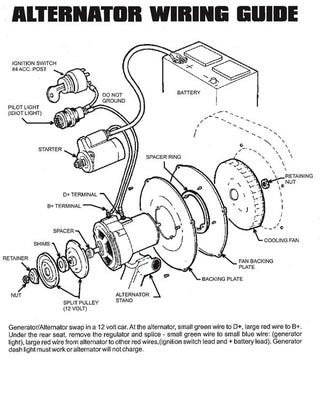 so, tried to get the alternator out for replacement and, uh, hit a few snags.
First off, tried to take off that retaining nut at the back. That's a 36mm nut. Took me three days to get a hold of a socket for one here in NYC, had to make a couple trips through the Bronx for it.
I followed this video, taking off the belt and that went great. Then I tried to take out that retaining nut at the back and it wouldn't budge.
I try everything. My brother and I lock the assembly in place using a screwdriver held in a slot in the pulley (this is standard VW practice), but the 36mm nut at the back wont' budge. Blast it with PB blaster, nothing. Get fully under the car, so I'm yanking down on the nut. Nothing. Get out an extending lug nut wrench, but it's too big to fit in the tight space.
Call Jason, he tells me I've been doing this all wrong. If I take out the four little 10mm bolts holding on that retaining plate (it attaches the alternator to the fan housing) then the whole fan/alternator combo comes out at once.
Great.
Down I go, back to the Baja, around 11 at night, wrenching with a flashlight and a streetlight.
I get the top two little bolts off no problem, but the third is somehow lodged way down behind the carb.
Who happens to walk by but that guy who drove the Baja around the block, Michael, and his dog Pepper. Pepper is excited to see me, and Michael, too, because he has an excuse to turn a wrench.
We get the carb off, douse ourselves in gas before stopping up the fuel line with a little nut I had lying around, and try again at the lower left 10mm backing plate nut.
No dice.
Can't get a little 10mm wrench on it because it's too tight quarters, can't get a socket wrench on it either.
Then we realized the last 10mm nut was replaced with a screw at some point. There is no way I'm getting at it from an angle.
Looks like I'm going to have to take off the whole carb and the middle of the intake runners to get at these bolts tomorrow morning, hopefully before I have to move the car for street cleaning at 9:30.
Sometimes the Baja really does make things difficult.