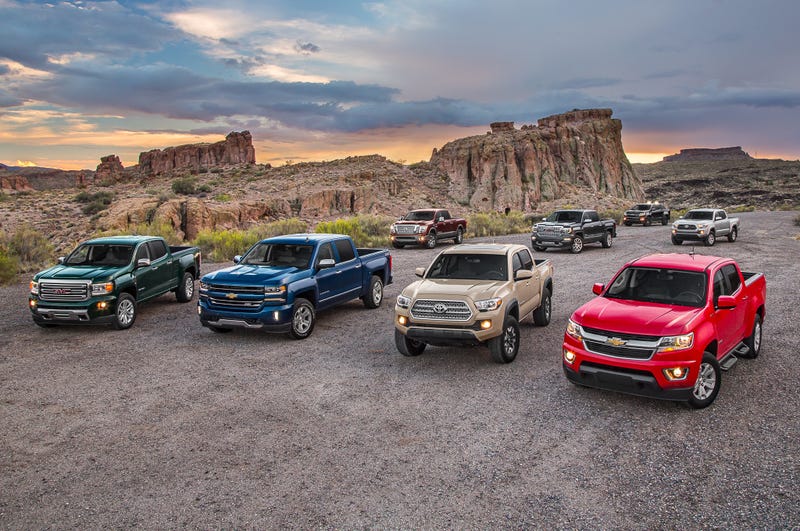 I've got some time until my next exam. Let's throw some hands.
13. Nissan Frontier
So outdated, so old. It may not affect its usage, but it does stand out in the market. You probably didn't even notice I used a picture of a 2009.
12. Toyota Tundra
Though it's nearly as outdated as the Frontier, it manages to edge out the Frontier by having one really good facelift in its lifetime. But that was nearly ten years ago. Toyota just tried to update it with some new lights but it still looks achingly old-fashioned compared to its competitors.
11. Honda Ridgeline
I like the Ridgeline a lot, it's more truck than most people who want a truck really need. But that doesn't help the fact that on the outside, it's really a Pilot with a bed.
10. Nissan Titan
It's basically one big reactionary move to the largest truck trends of the past decade. Big grille? Check. Weird LED DRLs? Check. Loss of dignity? Check.
9. Ram
It's a pretty good design for one that's nearly ten years old, but Ram's efforts to update it with a new grille on the Rebel and Laramie Limited models don't help. Don't buy one of those two and you'll be good.
8. Ford F150 Non-Raptor
If you're frantically trying to click away under the absurdity that I've split the Raptor with the regular F150, just hear me out. The Raptor shares most of its components with the pre-facelift F150, so I think it's more deserving of having its own entry. Meanwhile, the facelifted F150 has a grille that looks like a stretched anus. Shame, it was such a pretty truck beforehand.
7. Ford Super Duty
I really hated this design when it first dropped, but I find myself liking it more and more. The grille still looks like an electric shaver, though.
6. Chevrolet Silverado
Wow, what a twist! I bet you were expecting this to rank higher. Honestly, though, I like the Silverado a lot, but the HD's extra gaudiness just ruins its reputation. It's a handsome pickup with that one twin brother that looks nearly the same but is a little off...just a little.
5. Toyota Tacoma
Yes, it's nearly as old as the Tundra and Frontier, but Toyota's strategic nip-tucks have done the Taco a lot of favors. My neighbors own a pair of TRDs and they make me admittedly a little excited every time I see them.
4. GMC Sierra
Denali shaver-grille aside, the Sierra proves that GMC can inherently improve any bad Chevrolet design, and can even make it work on the 2500 models without being too gaudy. It's the definition of, "truck," in my book.
3. GMC Canyon
I usually forget that this truck exists. But when I do, I'm always pleased. I really have to give GMC props for properly scaling down the Sierra's mug onto a wonderful little truck.
2. Ford F150 Raptor
The Raptor has this dripping sex appeal that cannot be properly defined at its first glance. I can't tell if its the beefy tires paired with the body cladding, or that gigantic, but admittedly semi-gaudy FORD grille. Taken apart, it should be ugly as all hell, but when together...it just works.
1. Chevrolet Colorado
Are you surprised? This truck is my darling of the market. Every time I see one, I get so excited I start to whinny. It's not too gaudy, it's not too plain, it treads the line between the two perfectly. Then the ZR2 came along and added some nice Raptor aesthetic to what all trucks should really look like these days. Simple always wins in this category.
This is my opinion. But of course most people don't care about that. I'll probably respond with memes if you try to argue.