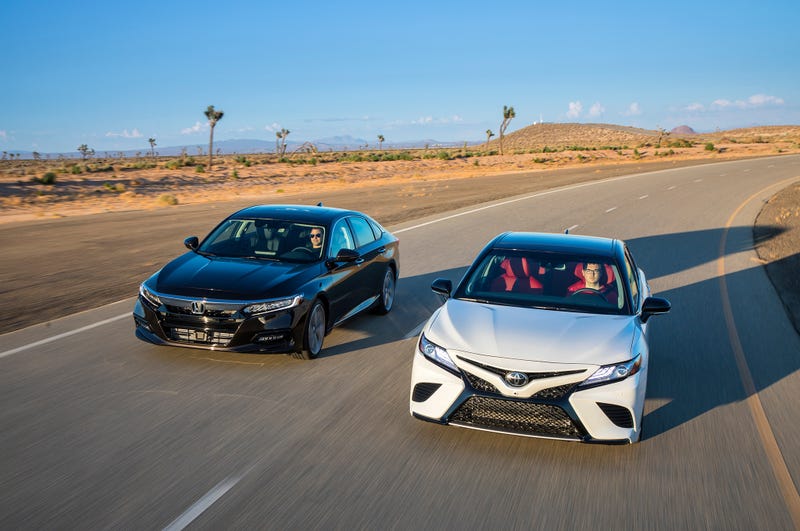 I had fun doing that last one and your replies made it even more fun. Let's do it again.
This was admittedly a tad harder to do because I believe that we're on the cusp of the era of some of the greatest looking cars in this segment. But of course, some are better than others.
10. Volkswagen Passat
The Passat is bland, period. It's sad to see a car which has had interesting and exciting designs in its heritage be reduced to a somewhat bland mishmosh of safe design cues. The only thing this design does for it is reaffirm its German-ness, with such cues as the hoff kink in the rear...but that's the wrong German brand doing it. Oh well.
9. Hyundai Sonata
I quite liked the design of the Sonata that was on sale before this recent refresh, but the wide-mouth trend has not fared well on this Alabama-born Korean. It took me months to realize this was a new Sonata and not a new Elantra or something.
8. Nissan Altima
If this list would have been done about 5 years ago, the Altima would have probably fared even lower than it is here. Luckily the recent refresh with Maxima-like design cues pumped a sliver of excitement in an admittedly bland car. In any other comparison, the Altima would be at the bottom with its gutless engine and horrid CVT, but it does look sort of exciting...sort of.
7. Toyota Camry
It was a hard decision to put the Camry so low on the list, because I admittedly like the new Camry a lot. It seems for once that Toyota didn't half-ass the whole thing and it's actually a car that I'd like to drive. But, that grille and those rear vents are just a huge mistake.
6. Chevrolet Malibu
When the Malibu dropped on the scene, I was all for it. It was an exciting and exotic design that paved a new way for Chevrolet's design theme. Now that it's been a few years, I can say that it's still a looker, but I've grown kind of cold to it. It's definitely in its best guise in the top trim LTZ, lesser trim LTs and LSs do not do it any favors.
5. Subaru Legacy
I admit, it was hard trying to find a place in this list for the Legacy. I think the car is handsome, but say it's too handsome and that's just blatant bias because I own a Subaru. But it's not inherently ugly either. It's got a lot of good lines and nice, muscular tones in the front. I'd say it's best here smack dab in the middle.
4. Kia Optima
Ooh, now this might be a surprise to some, and it's even somewhat shocking to me, but I can't help but like the new Optima, especially when spec'd with the sport package and those attractive red calipers. It's no secret that Kia's been penning some astonishingly good designs lately, and while the jury is forever going to be out on the Stinger for me, I can say with confidence that I like the Optima...a lot.
3. Ford Fusion
Yes...yes...YES...ever since its debut in 2012 I have been all over the Fusion (or as some may call it, the Mondeo). It may look like an Aston Martin from some angles, but that only helps it. This is a good-looking car all around, no matter trim nor color. It would have topped this list easily a few years ago, however, two cars have come since which have ultimately best it, but the Fusion is still a favorite in my heart.
2. Honda Accord
The Accord still wows me to this day. How can Honda, creators of the new Civic, give us something so striking? It's amazing. The Accord has a profile of a car that costs easily twice the price and has about the same features as one as well. A neighbor recently got one in bright red and good god is it amazing to look at. Yes sir, indeed...if Honda can keep up designs like this...I may have a new favorite Japanese brand.
1. Mazda 6
I mean, come on? We're all Oppos here, we all love Mazda, and there's a reason why. Mazda doesn't follow the bland trends of today, they set out to shock them. They're one of few brands that manage to have a full line that looks great, from the MX-5 to the CX-9, there's really no slouch, and it's all thanks to the 6's radical design from a while back. This car is sex appeal, it's soul. It's one of few new cars to rival the Giulia in my book, and it just keeps looking better and better with each refresh. Bravo, Mazda.
Anyway yeah, as always, this is my opinion. You'll probably disagree. I'll probably reply with a meme. It's all fun and games.