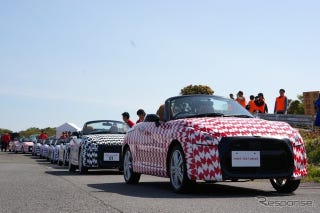 Held last week on Saturday, new Daihatsu Copen upfront test-drive is TOYO TIRES.
×
Turnpike-fans of Copen Hall, over 90 people gathered up!
-Became events in this event:
made up test drive on the Turnpike and the development team, including new Copen Charm.
The new Copen is available, even before its release and still had on camouflage for cutting sheet cum!
Copen ended production in 2012, with there is, once again, 6/2014 new announce is gone!
I'll glad expectation is that improved fuel efficiency compared to the predecessor model from-this time.
A further noteworthy is a new concept named
"DRESSFORMATION ( ドレスフォーメーション ) dress structure boobs!
Outside the door and roof boards all replaceable bolt tightening,
that range is likely spans the front hood, luggage, front and rear bumpers, side fenders, side rocker panels, fuelled part 11 products.
Specifications can reflect the personality of the owners, but unfortunately in this ride yet to see that is not in- it is fun 6/2014 launches.
Daihatsu Copen new Hakone with fluent that ran (Translated by Bing)