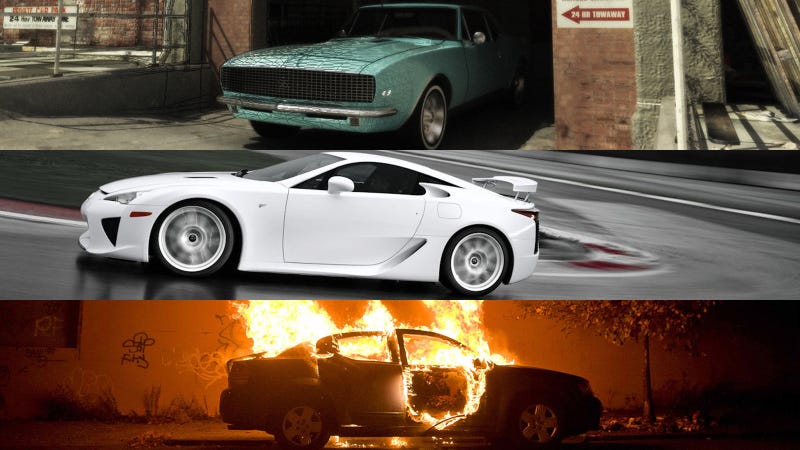 Welcome to Daily Drive, Track, Or Burn! 3 choices, 3 cars, you know what to do.
Last Thursday I showed you 3 Miata alternatives, and every one of them was a Toyobaru. Even though they're all the same car, people have some pretty strong opinions about them. The obvious choice for DD was the Subaru, as it's somewhat more comfortable than the other two, the GT-86 got tracked because of its heritage, and the Scion was burnt, but only because of it's badges.
Today, I bring you three of the cars that my friends daily drive around Wisconsin. Being as we're all young and broke, our cars suck, but they're what we've got, so back off.
Also, for the first time today, this is getting shared (hopefully) on Whitenoise as well. Cars are tech and many of you traffic Jalopnik as well, but you might not normally delve into Oppo, so now's your chance.
(Note: I was going to get pictures of the actual cars, but I did this on short notice.)
1. A 1997 Chevrolet Camaro
Belonging to my friend Andrew, his Camaro looks a lot like the one pictured above, except with a bra and a lot more dents. Technically it could carry 4 people, but you're safer with two. The requisite dead body in the trunk puts too much weight over the rear axle and with two people in the back it tends to bottom out. Finally, as Andrew learned, never lend your car to your sister, as she'll immediately crash it.
2. A 2003 Chrysler 300 M
After his Dodge Intrepid was totaled by a geriatric, my friend Sheldon upgraded (I use that term loosely) to a 300 M. Sporting a rather nice leather interior, this car is the work horse of out little fleet, being more reliable than most and yet we don't get nervous taking it into some neighborhoods like we do in my car. It only let us down once, after it hit a pot hole that messed up the battery and alternator, but we still made it home within the same day, so no harm done.
3. A 2002 Volkswagen Passat
Bought from a family of Russian import dealer off eBay, this Passat was my first car when I turned 16. Equipped with V6 and heated seats, I was king of the world. At least until I got the first service bill. I honestly never had to put too much money into it, but I once made the mistake of trying to change my own headlights. I checked the manual and it said "Take it to dealer". But I loved that car to death and still regret selling it every time my Buick does something stupid.
As always, suggestions are welcome, complaints are not. Deal with it.