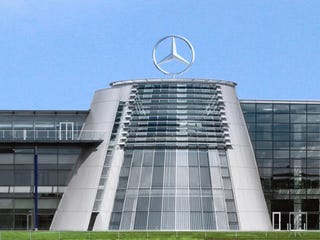 Seriously, Mercedes has been in existence for over 100 years, yet they don't own any brand, instead of their Mercedes and the tiny Smart brand. Their only tried to takeover Chrysler, but failed and they had to sell the company.
During the Carpocalypse and after it, many brands were for garbs, some of them for peanuts. Yet, Daimler played in the defensive, contrasting with VAG's buying frenzy. They are getting close to Aston Martin via intermediates, instead of throwing a suitcase full of money on the table, and buy the struggling brand.
Now, another struggling brand is Lancia, reduced to one model and sold only in Italy? For a brand with the history of Lancia, that is worse than death. Mercedes could become a hero for Italians by buying, and transforming it into a transition brand, like Volvo or Acura (mainstream with premium markets allure). I'm sure Marchionne would sell it, if Daimler would guarantee production and R&D bases in Italy. I mean, Italian design with German built quality, looks like a winning combination to me.
Lastly, they could use Renault and Nissan's expertise with cheap cars, and turn Smart, into a no frills, rival for cheap brands, like Skoda and Renault-Nissan's own Dacia\Datsun pair.
Stop putting the Mercedes badge on vans and trucks, damn it.