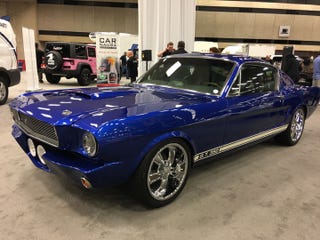 My daughter asked me to take her to the Dallas Auto Show for the last day on Sunday. Being the good father that I am, I decided to sacrifice my time for the educational experience.
Free admission. We were waiting to buy tickets when this guy came up to us and offered us guest passes. He had them for some promotional reason from his work and decided to share the love. So, we saved $21!
Doggies. Near the ticket area, there was a setup for one of the local no-kill shelters with cute doggies to pet. Poor mutts look like they'd been petted by every kid in the state, but they were heroes to put up with it to raise awareness for the shelter.
Best in show. The best display was the Lego Batmobile. I'm always blown away by the patience and skill put in by people who can create such things. Prettiest car goes to the Rolls convertible in that gorgeous blue with the cream interior. The best car I could actually sit in was the CT6. I loved that car. I've read people say that it's not quite up to the interior of an S-class, but I sat in both back to back, and I don't know what they're talking about. The interior of that Caddy was a masterpiece. My daughter's favorite was the neon green Civic coupe. It did look like the perfect car for her (someday).
Luxury cars off limits. Aston Martin does this crap every year. They bring their cars from a local dealer, but they put them behind a wall so the closest you can get to one is twelve feet. Of course, the Rolls and Bentley cars were behind walls as well. The new thing is that Porsche locked up their cars. They were show cars, but Porsche didn't want the riff raff soiling them with their backsides.

Other car show notables. The Kia podium was backed by a video of the Kia hamsters playing with Nathaniel Ratliff (of the Night Sweats). Guess even he has to pay the bills. I was talking to the guy with the green Hemisfear. He was kinda sensitized by all the people who appeared to think it was a Prowler. There was a section showing of some really wild wraps of Lambos, Ferraris, and a Charger. Looked gorgeous, but I'm still wary of car wrapping because if it tears anywhere, it's ruined. The 2018 Mustang was there in orange, but on a podium. It looks good, but not so different from the 2017 that you notice it at a glance.
All in all, a decent showing for a regional, second tier auto show.