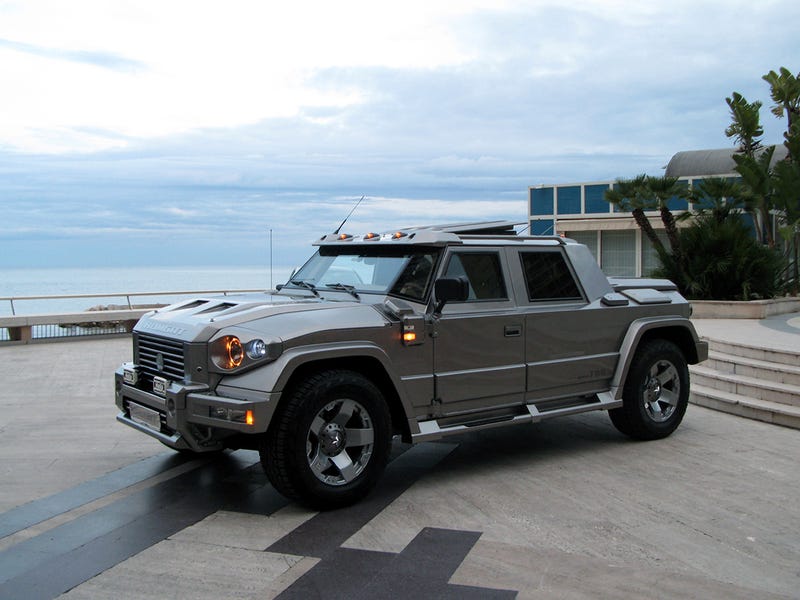 You probably know Dartz as the Latvian company that makes completely bonkers luxury SUV's with whale foreskin clad interiors for the dictators of made up countries and Russian mobsters businessmen. I somehow ended up browsing their webpage and here's what I found. It seems that they don't take themselves very seriously.
First off there's the Prombron' Black.Russian 'for taste-impaired Chinese coal boss' as the official description goes.
Then there's the Aladeen edition Prombron'. And it doesn't stop there, Dartz also seems to run shopwadiya.com which doesn't exist anymore. Actually I'm not sure if it has ever existed.
Presumably you could buy these from there:
Dartz hasn't forgotten women either, they made 10 of these Prombron' Iron Diamond L2P's. "Ladies only" as they advertise. It comes with a 'G-device' designed by 'famous car designer' Viktor Poontoos. Because why not!
And how do you advertise a car made exclusively for women? With Playboy bunny of course!
When you buy the car you also receive 1 kilo of RussoBaltique caviar and a bottle of RussoBaltique vodka (did I mention that they make those too).
They have stopped refreshing the page after 2011 but for 2012 they planned to launch Leon Trozky edition and Prombron Nagel, a car specifically designed to pull yacht. Because obviously the world needs an armored 250 kp/h reaching yacht puller.
So there you have it. Dartz motorz website in a nutshell.
Oh, I almost forgot. They also made this replacement for the Rolls Royce spirit of ecstasy.