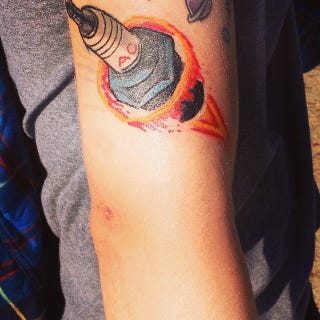 So this past weekend me and my beautiful woman (not my car a real one) drove to DFW to work on the Datassun .
Motor mounts are completed ... Just looking for a fly wheel so I can mate the transmission to the motor and start the what will seem like never ending process of test fitting and removing the engine and transmission over and over .
If any Oppo's have the following I'll buy them from you !
LS1 intake manifold - any style just not the truck manifold
LS1 Throttle body - I'll take any throttle body that has a cable and not fly by wire
LS1 MAF Sensor - Any
LS1 Flywheel - Any flywheel that will work with my 5.3 liter and T56 setup.
And I'm open to other LS1 parts if anyone may have them !
On another note me and the woman (The beautiful real one) also got tattoos and I took her to Joe T Garcias which if your from Fort Worth you know is some of the best Mexican food in Texas with the best atmosphere .