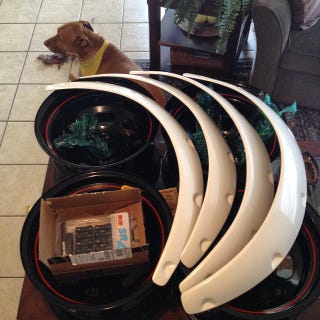 Ok guys been a long time since I've update ya'll on the 280's status.. The car is still for sale but like anyone with a car that has tons of potential I continue to buy car parts for it and the price of the car continues to rise.
Lets start small. Some new Lug Nuts for the Datassun ...
Side Note: overnight parts from japan take about a month to get to Texas.
Secondly we have some Bassett racing wheels. These are 15x10 with a 4" backspacing that a -38 offset . Before you know it I'll be poking out like I live in East Austin. YES they are heavy as fuck. YES the have alot of blemishes . YES they were cheap.
And Last but obviously not least . Some ZG Wide Fender Flares . These measure 3.25" Wide in the front and 3.75" wide in the back . Again not the best quality which is upsetting but from what I hear these aren't easy to find in good condition. Pretty much what I've been told is there's only 1 or 2 guys in the US making these flares and the molds suck for both of them. Sucks to suck I guess. But I'll clean them up a bit paint them and throw them on. Now I just have to figure out what tires are going on these damn wheels .
Should look pretty close to this after everything goes on .