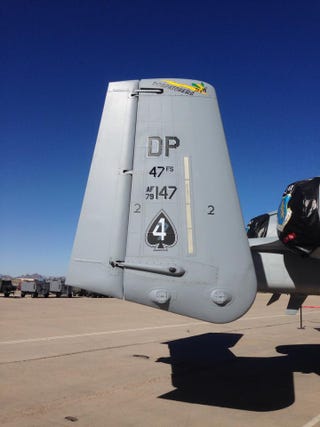 DP as in "Dogpatchers". The USAF Reserve's 47th FS, was formally activated at Davis-Monthan AFB this weekend. The aircraft used to carry the BD tailcode of Barksdale AFB, LA where they used to be based.


They also carried the iconic "Warthog Face" nose scheme, and were the only other A-10 unit (besides the Flying Tigers) to have a "face" on their aircraft for some time (The 163rd FS "Blacksnakes" & the 188th FS "Razorbacks" also had faces recently). I hope they keep them, but I'm not sure. I'll ask some friends.

The new DP Tailcode is a nod to the squadron's heritage. During WWII, the 47th Pursuit Squadron (the great grandaddy of this Squadron) painted pictures of characters from the Dogpatch Cartoon on their aircraft, and the A-10's have been no different (just behind the Rescue arrow is where they paint the characters):
Now, if we could just do something about those people in D.C. that want to get rid of the A-10...