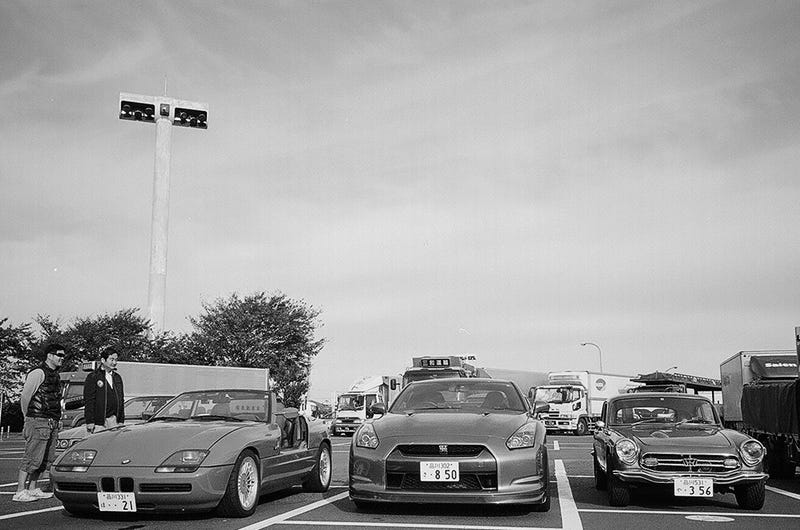 Three cars I'd want to DD, for very different reasons...
OK, just in case you need refreshing, we've got a limited-run, drop-door gorgeous BMW Z1, based on an E36 but using clever lightweight parts and fucking doors that drop down into the bodywork. Pair this unique feature with a fold-down fabric top and this car does more dropping than dubstep. Power for this 1250kg rarity comes from a 2.5L M20B25 straight-six. This particular example appears to be rolling on Alpina wheels. Drive free! But don't die.
In the middle we have a pre-2011 GT-R, internally called CBA-R35 (rather than the DBA-R35 that had Launch Control you could actually use, 530+bhp and LEDs in the revised bumpers). That means no more than 500 or so horsepowers and a cleaner look to the nose. An early-year Godzilla revival that appears to be unmolested, but is still devastatingly fast in all directions. Swallow some brave pills, find its stratospheric limits and stay there for something truly mind-bending.
Lastly, we have a Honda S800M Coupé, utilising a solid rear axle rather than the chain drive and IRS of the earlier non-M-series S800s. With just 791cc and four cylinders, it may not be quick, but with a five-figure redline in race-tuned versions and peak power at 8000rpm it must surely feel fast. Honda's first 100mph car and at the time the fastset sub-1000cc car...... In The World. Rare, popular with locals and very small indeed. 70bhp and 757kg make this a Japanese Elan of sorts.
So what'll it be? Hopefully there will be at least one person who doesn't burn the GT-R...