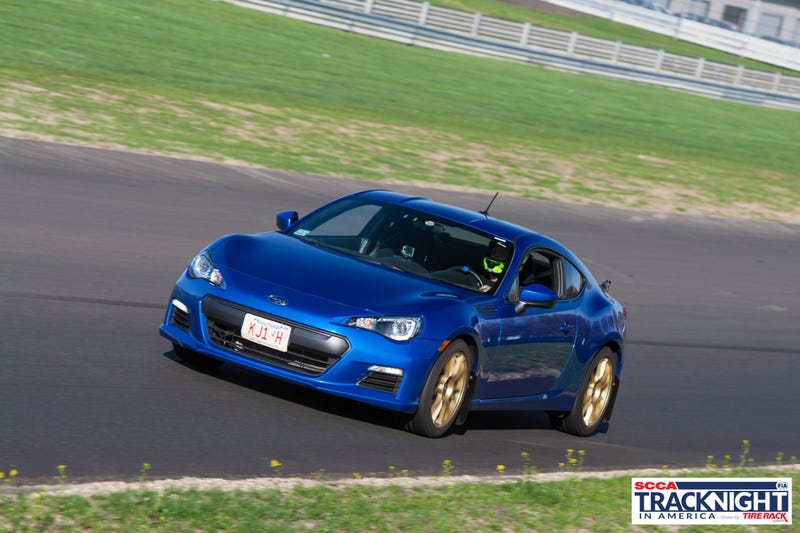 My BRZ is awesome, but it's no longer a good fit with my lifestyle. When I bought it, I was living the single life, had an apartment, and didn't need to haul much beyond groceries. Now I'm married, have a house, live with my wife and her two kids, and have to haul a lot more stuff around, including towing a ramp trailer. Her Ford Flex saves our butts in the practicality department, but anytime I need to take more than one passenger somewhere, we can't take my car. The position of the manual shifter in my BRZ causes her shoulder pain to use, so she can't drive it. And I can't tow the trailer, which means difficult or sometimes impossible scheduling to borrow the Flex when I need to haul motorcycles and stuff around.
I'm not ready to switch cars yet (it'll take some time to recover from buying that house), but I have three replacement options in mind. Requirements are that they MUST be fun (I refuse to trade in the sports car for a minivan), have four doors and a usable back seat, and my wife must be able to drive it without pain. A manual is preferred, but I'd consider something else if it's still fun.
Subaru WRX
This is, of course, the natural progression from a BRZ. When I compared them head-to-head, I decided that given the choice I'd get the WRX over the BRZ today. But what about among the other practical competitors?
Pros:
AWD. Not strictly necessary with a set of good snow tires, but nice to have.

Power. In stock form, it's the most powerful of my options, and the AWD puts it all to the ground quite effectively.
Familiarity. I know Subarus in general pretty well, so this wouldn't be a very big leap from what I'm already used to.
Because I'd be swapping a Subaru for a Subaru, maybe I could get a good deal.
Cons:
Not a hatchback. Subaru chose the worst time to offer the WRX/STi in only sedan form, with the Focus RS tromping the STi in practicality as well as power. But the WRX still passes the sit-behind-myself test.
Non-manual transmission is a CVT. If the manual hurts my wife to shift, I'm out of luck. My BRZ and I have caught and passed a WRX with a CVT on the track. It's that much slower.
Ford Focus ST
We already have a Ford in the driveway, so why not add one of its siblings? I was also quite impressed with the bargain basement 2002 Focus LX we had. I could tell there was a decently performing car being held back by an old engine, a slushbox, and a suspension tuned for comfort, not corners. A modern version tuned for sportiness sounds quite promising.
Pros:
Hatchback. Super practical. A Fiesta is too small for my current needs, but the Focus would do the job.
EcoBoost. I've been quite impressed with Ford's turbo motors in the Flex and the Mustang. Though slightly less powerful than the WRX, I'm sure it'll work well.
This is probably the most sporty car of my choices. That's a good thing. So are the optional Recaros, though I'm honestly not sure if I'd want them in a daily driver that would occasionally but rarely see the track.
This is the least expensive of my three choices. I was hoping it would get even cheaper with a flooded market from all those trade-ins on upgrades to the RS, but it doesn't look like that's happening. Still, it's the most affordable option.
Cons:
It has the smallest back seat of the three options. It passes the sit-behind-myself test, but not by a lot.
Manual only. It's a good stick, but if my wife can't drive it, I can't do it.
Volkswagen GTI
I was quite impressed with my friend's Golf R. I don't need, nor can afford, that much car, but for a whole lot less money, I can get maybe 80% of that car. That's plenty of car for me.
Pros:
Best back seat. Legroom is as good as the WRX, but the roof doesn't slope down like the WRX or Focus, so the GTI has Max Headroom.

Dynamic Chassis Control. Want to attack the twisties? Put it in sport mode to stiffen the shocks. On a crappy, potholed city street? Put it in comfort mode to improve the ride. Not standard, but it's an option I'd want.
Available DSG transmission. I'd definitely want to test drive both a stick and a DSG, but if the wife can't manage the stick, the DSG would be an option. We can both handle paddles, or just leave it in automatic for driving in traffic and the city.
It's basically a German sport sedan, but with a hatch instead of a trunk, and a much lower price tag than a BMW, Mercedes, Audi, etc. Probably the most comfortable and refined on a daily basis. And it's possible we could find a deal because Dieselgate.
Cons:
It's sporty, but the least sporty car in the list. That's partly why it's the most refined, though.
VW doesn't have the best reputation for quality and reliability. Repairs will be more expensive because it's German.
At only 210hp (220 with the Performance Package), it's by far the least powerful car in this group. A simple tune will put it over 300 - more than the Golf R - but the stock clutch won't hold up to that. Unless it's a DCT, which will...
So there you have it. I keep changing my mind several times a day about which of these I'd want in my driveway.