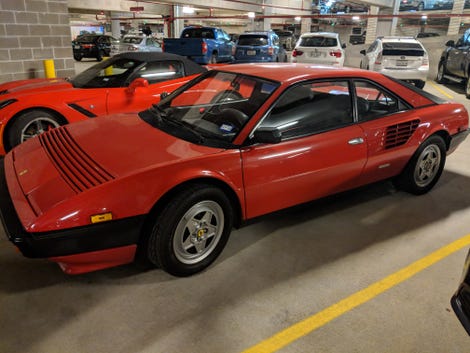 Story of good dealer and stupid me. DOTS Ferrari for your time.
So, wife has been driving the 2015 BMW 328 since it is on a 10k miles per year lease and my daily commute is about 100 miles round trip (hers is about 15). Over the weekend she tells me the clutch pedal was making an odd noise. I drove it around the block, and it sounded and felt like there was a slight catch during clutch release. Since it is on lease and fully under warranty, I didn't even try to diagnose (or anything really), I just called the dealer and made an appointment.
Dealer is good overall (Advantage BMW Midtown in Houston), but after drop off hadn't called me by 2pm. So I called, got a call back about 5 minutes later, car was ready for pickup.
Know what it was? The floor mat. It had migrated too close to the pedals and was catching the clutch enough to just barely impede the progress on release. Yeah, I felt dumb. I'm no super mechanic or anything, but can do basic brakes, alternators, etc. And I didn't even try.
Not much lost but 30 minutes or so of my wife's time dropping off and picking it up, and we did get it washed, but still feel pretty dumb.
Anyone else care to share your story to make me feel slightly better?
(Also, if you will be in the market for a 2015 328i M Sport 6 speed in July, I know a dealer that will have one CPO and I know the driving history.)