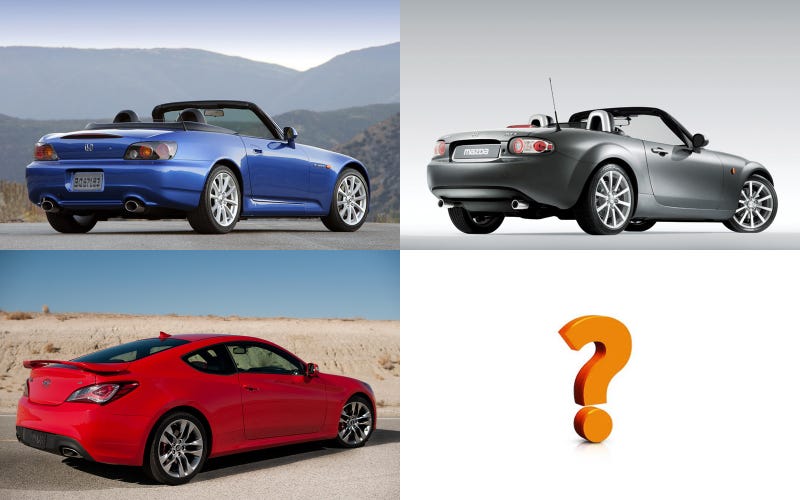 So I'm looking at cars currently, and I feel I need a bit of help on finding/deciding on a new car. Here's what I've deduced so far. Help/Opinions/Advice would be greatly welcomed.
I'm not going to explicitly state my price range, but I'm sure you could guess. This will be my DD.
Cars I'm looking at (all manual trans, used):
Honda S2000
This is the only car I've test driven so far, and there aren't a lot to choose from in the area. I am not really a convertible person, but I do like the S2000 enough to bear it (I live in the Midwest btw).
All the S2000's I've looked at so far have 75k - over 100k miles on them, is that a problem?
Mazda Miata NC
I wasn't really looking at the miata, but since I tested the S2000, I though I should. I am currently looking at one with a folding hard top and one without; any pros/cons of either?
These also seem cheaper compared to the S2000, which may sway my vote.
Ford Mustang (V6 2011-pr.)
My family is big into Mustangs... okay, I don't really have a car family, but the last sportscar in the family was a '65 mustang back in the day and they all like to reminisce about it, and seeing as I liked the Genesis, I thought I'd try the classic.
2011 and newer because that's when the better engines arrived. Unfortunately, these are just a bit more than I want to pay at the moment.
Hyundai Genesis
I had the great pleasure of being able to drive one of these (3.8 track, to be precise) on a weekly/monthly basis. It was great, I loved it. It felt very industrial, something that is different from the first two on the list.
Looking at the 3.8
What Else Should I Look At?
Please ask any pertinent questions, and I will try and respond quickly.