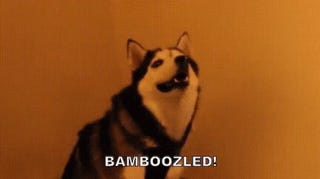 Recently acquired a new iPhone 11. My previous one (iPhone 6S) was running as fast as my Ruckus uphill. Got a decent deal, and even was quoted $100 to trade in the old device. They send you a special box to pack it in nice and cozy, provide labels and instructions how to do it. Drop it off at a FeDex and you're set. So I did all that, removed the old phone out of its Otterbox case, removed the hardened screen protector, phone looked brand new. Factory reset the device to clear it, turned off location services as instructed. Slid it into the neat packaging, placed it in the box, sealed it up well, labeled it, dropped it off at the nearest Fedex. Sounds easy right?
I received this update on my trade in. Allegedly, the screen is all sorts of damaged: lines, flicker, pixel damage. Here's where I draw speculation: in order to set up your new phone, you need both phones to be operable. So clearly, my screen was functioning before I sent it out. Unless I set up my new phone, then spiked it on the ground in celebration. Of course, there is no imagery to go along with it, and no clear way to refute the claims.
I reach out to their support chat. I get the same jist you get at any of these, "Sorry about your issue! We are looking into this. We will take care of it as soon as we can!". You know what they did for me? They re-read my trade in status. "Per the status of your trade-in, the device display is not functioning properly." Thanks! Didn't know that!
I asked them if they still had the packaging it came in. If it was wet, smashes, or torn in any way, that had to be the root cause. Even if it was damaged in transit, does that fall on me? Apple? Fedex? Who knows. What's stopping them from taking a hammer to every trade in they receive tell us that's how it came? Apple finally sent a "request to out trade-in support to give a feedback and let them know about [my] request." That process take two days. I know my chances are low to get that credit back, but I'm not going down without a little push back.
Then, conclusively, the guy messages me this:
Yeah, I'm a patient guy and all, and I understand this issue is not Vince's fault, but don't tell me to smile when I'm clearly not happy with your company's service.
Doggo as promised. Not a fan of the cold or the snow.