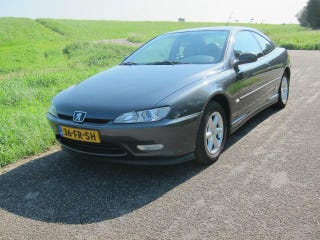 Owning either a French or an Italian car is supposedly a nightmare financially. October first 2012 I decided to find out for myself and I bought a 2000 Peugeot 406 coupe, built and designed (exterior) by Pininfarina in Italy. It became my daily driver. Here's an overview of the costs of close to a year of ownership.
In the list below I've listed the costs associated with the car. I'll exclude tax and insurance as those differ so greatly between countries they're irrelevant to the story. They're irrelevant to the quality of the car as well. I'll excluded car wash costs as well.
I bought the car, a Peugeot 406 coupe first registered in the summer of 2000, on October first 2012. It had 167k km (104k miles) on it. I'm the third owner. I paid €3000 cash.
The car has over 190k km now, so I've done over 23k (14k miles) in almost a year. Almost every bit of work done to the car was done by a mechanic who's a distant acquaintance or at a local garage. Both charged by the hour and this is included in the price I mention. I did do the wiper blades and the center armrest myself!
11-2012
Broken speedometer sensor: €100
2-2013
Refilled A/C: €100
3-2013
Tuneup. Filters, liquids, spark plugs: €165
Car came equipped without Cruise. I had it installed: €225
4-2013
Wipers. Unsure, I believe €40
Installed center armrest: €50
9-2013
Broken rubber exhaust clip: €5
1 liter of oil: €10
Yearly mandatory safety and emissions check: €35
Fuel for 23k km (14k miles):
€1495
Summary:
Total costs regular maintenance: €350
Total cost broken parts: €105
Total cost elective upgrades: €275
Total cost for maintaining and driving this car for 23k km (14k miles) including fuel: €2225 ($3008)
Not bad for a large-ish (midsize in the US) thirsty old French coupe, is it? And no, it's not a diesel.