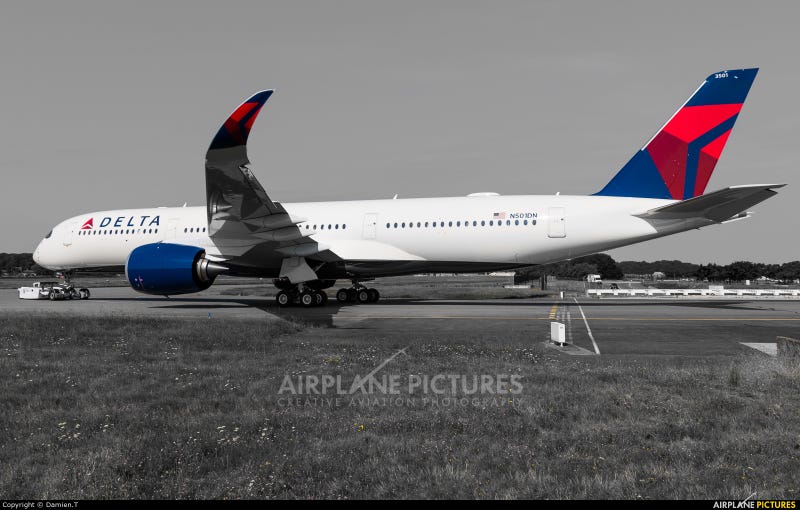 After flying back to Spain from a two week vacation at home(it was good to be back in good ole' New York after more than a year away), and sleeping like two days after that, I realized something: Airbus planes are misjudged by many Americans.
The Delta A330-200 that took me from JFK to the AS Madrid Barajas airport, wasn't as sharp and new as the A350-900 pictured above, but nevertheless I had a very pleasant, comfortable and quiet trip. Their food is getting better too, but that's not about the plane, I guess.
While living in Spain, I got to fly around the country and to a few other EU destinations on Airbus planes, much more than I would've done in the US, where many people and airlines are leaning towards Boeing and trend to dismiss Airbus as inferior.
Now, Delta is known for doing things a little differently than American and United, and it could use Airbus as a way to differentiate itself even further. I mean it's already happening, A330Neos set to replace old 767s, A350 replacing old 747s and 777-200ERs, A321 replacing 757s, Bombardier C Series(a plane jointly owned by Bombardier and Airbus)replacing old MDs and 717s.
I think that a fleet harmonization towards Airbus is inevitable for Delta, with only exceptions being the future 797, as its bigger than a A321 but smaller and more efficient than a A330-800 Neo positioning, is still making it attractive for the airline and the 787, as Delta still holds an order for a few of those, order most likely to be cancelled.
So, Airbus will grow in preponderance within Delta, and that's not a bad thing, as they make awesome planes.