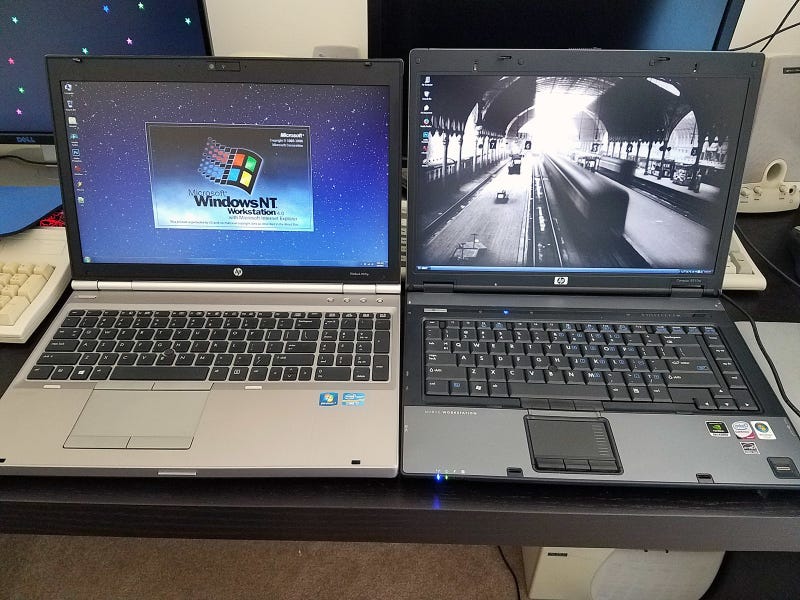 Picked up these two machines... sold my 8470p for a 8570p and just swapped out the drives. Wanted 1080p screen but still a well built laptop with good keyboard, touchpad, and plenty of ports. Let's start with the HP Compaq 8510w
This machine is from 2008, picked it up for less than $60 shipped as a complete system via eBay! Added in more RAM and awaiting an SSD for it. T8300 2.4GHz Core 2 Duo, 3GB RAM, 320GB 7200RPM HD, 15.4" 1920x1200 (!!!) screen, NVIDIA Quadro FX570M 256MB.

The bottom... going to rid of my retro boxes and just replace them with this.

Indicator lights

VGA, power
Kensington lock, ethernet, Firewire 400, HDMI, 2xUSB 2.0, SD card reader, PCMCIA slot, SmartCard reader.

Audio in/out jacks, 2xUSB 2.0, DVD/RW drive, modem jack
Decent keyboard and touchpad... fingerprint reader is a nice bonus.

You can still use XP very well in 2017 provided you do an unofficial hack to get updates and stay protected. Honestly, if you surf smartly you'll be fine. Also Vista+newer don't support the Yamaha softsynth I use for MIDI.

speccy
Here's the 8570p, a bit scratched and banged up but for under $300 total you can't go wrong... especially considering the hardware. i7 3740QM quad core, 8GB RAM, 256GB Samsung 850 Evo SSD + 320GB 7200RPM HD in 2nd bay (replaced DVD drive with SATA caddy), 15.6" 1920x1080, AMD RADEON HD7570M 1GB

The metal plate slides off by unlatching those two latches and it reveals...

Pretty much anything you'd need to replace. Simple, easy maintenance. Redid the thermal paste for the GPU + CPU on both machines.
I have a docking station from my last 8470p so it works fine with this one.
Unusual selection of ports... modem jack, serial port ??? in a 2013 laptop? displayport
2x USB 2.0, Firewire 400, eSATA/USB 2.0 combo, VGA, expresscard, SD card reader, smartcard reader
Audio in/out jacks, 2x USB 3.0, 2nd bay HD caddy with 320GB 7200RPM HD in it, ethernet, Kensington lock
Decent keyboard but the arrow buttons are too small. Touchpad is glass and glorious

Matte FHD with webcam + reading light

speccy
The EliteBook is going to be my laptop for editing on the go and Unity stuff... the other one is a high quality netbook of sorts minus the portability but also serves as a retrobox. Wrote this on the 8510w and it's great. Thanks for reading!