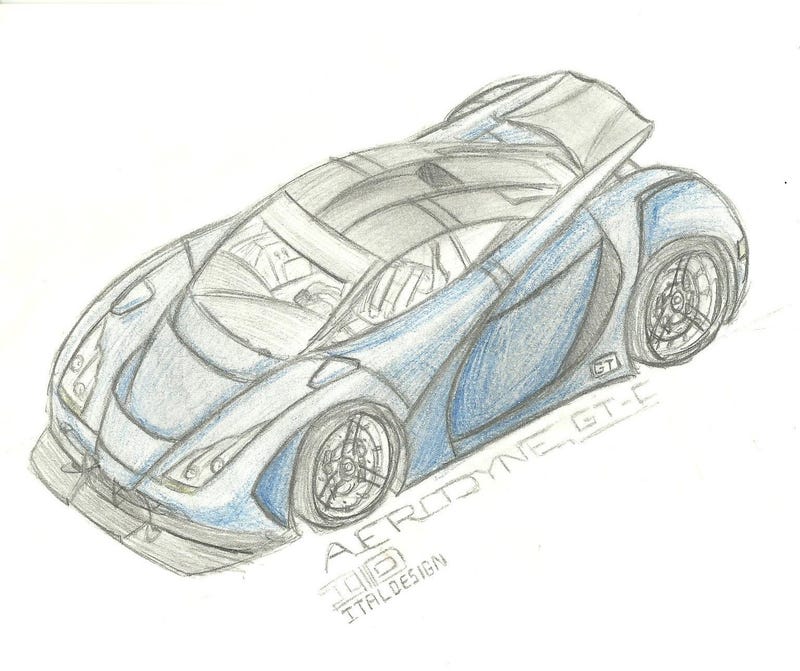 At one point in my life, it was my goal to become a car designer. I spent a lot of time just daydreaming and sketching, but some of my work went beyond just a simple one sketch idea. Project Aerodyne was one of those.
Back in middle school, I came up with a Lotec wing-over-body inspired design I called the DFI 500. That evolved into the Aerodyne series I drew over and over again in high school. Above is one of many versions of the Aerodyne I drew. Then in 2003, Motor Trend had a design contest they were holding for multiple age groups. As an aspiring designer, I decided to enter.
The design contest was for a race car to be used at some point in the not so distant future. I came up with a list of ideas and kicked around with some potential car shapes. Some of the more "out there" ideas were a T-shaped engine, autoshape tires that alter their shape for either more grip or for less rolling resistance, and selective maelstrom channeling (SMC). More on that last idea below.
From my ideas came a fleshed out concept. For some reason, I envisioned a partnership with Italdesign. On the upper right, I mention SMC again. I had this idea for a while that would give an advantage to teammates driving a pair of identical cars. I got the idea watching NASCAR and seeing drivers of the same team draft each other to pull away from a pack. SMC involves making the front and rear of identical cars a particular shape such that teammates could draft each other very well. Other cars could draft behind a car with SMC, but another car with the same SMC profile would make for an optimized drafting pair that would pull away from the pack. How would I actually implement this? I have no idea, this was my high school pseudo-science at its best.
I further fleshed out the idea into color drawings. However, much of the car still did not make sense. So many vents with no particular purpose, very limited visibility and doors that were ultimately useless. Part of the contest was being judged on technical aspects so I re-drew the car.
This was a little too square for my taste. I decided to completely revisit the design, as though I had to actually build the car.
I imagined the core shape of the car being closer to a prototype class race car. The car has an open wheel styled nose with the minimal amount of fender on each side of it. The rear is tapered with the wing-over-body base structure channeling air to the necessary heat exchangers. The rear wheels also have the minimal amount of fender over them. However, knowing what I know now about aerodynamics, adhering to the shape of the tire would cause a lot of drag versus tapering the rear fenders to a point like I did with the front fenders.
I drew the car over and over again until I got the proportions that I liked. When I say I drew the car over and over again, I mean it. There is a pile of five other sets of drawings that I did not even bother scanning. So now that I had the proportions that I wanted, I drew the final designs that I would submit for the contest.
To score more points for innovation, I came up with a unique interior design. All car controls would be on the steering wheel. The throttle and brake are on triggers behind the steering wheel much like the triggers on a Dreamcast controller. I assumed that in the future, in-race telemetry would be very important to the driver. So I came up with a hologram system that could cover the entire windshield with telemetry but still be transparent enough to see through. The telemetry system would be controlled by the driver's feet with buttons and a scroll wheel. Honestly, I would rather modulate the throttle and brake with my feet but I was trying to be innovative for the contest.
As far as I know, I did not place for the contest. If I recall correctly, the winners used some form of computer generation or editing. Also, I was pushing close to the deadline to submit my entry so it may not have reached Motor Trend in time. What you see above are scans of the originals. The original drawings are either in a storage closet at Motor Trend or in a landfill. If you work at Motor Trend and have seen the originals lying around, please let me know because I would like to have them back.
In retrospect, my final designs were not as attractive as my earlier ones. I should have re-drawn the final designs with longer proportions. I should have also looked for less gimmicky ways of being innovative. Now that I am an engineer though, I envy the imagination I used to have. The more I have learned about how things work, the quicker I have become to shoot down ideas that before I would have pursued. Perhaps one day I will find the balance between the designer and the engineer in me.