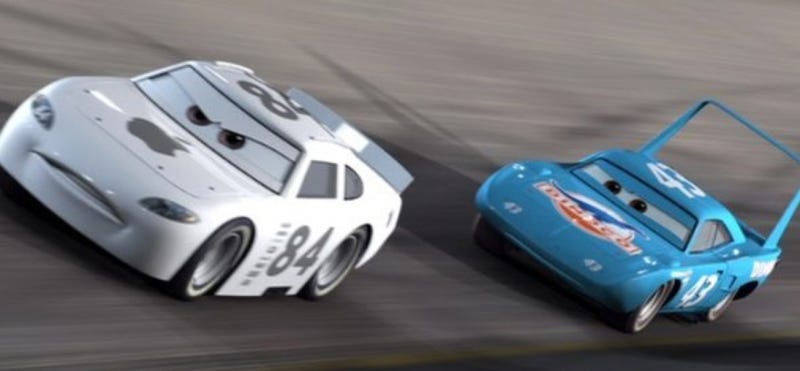 Steve Jobs always wanted to see an Apple car, a vision that was sadly never realized before his death in 2011. Apple board member Mickey Drexler even believes that the Apple car, or iCar, would have accounted for half of the car market if it had come into fruition.

With the recent introduction of Google's self driving car, Apple has been looking to how to get a cut of this new market when these vehicles begin being made available to the public. A lot has been written about the design of the Google car, and overwhelmingly the responses have ranged from "Meh", to "Oh god why take me now sweet angel of death."

Apple has always been more of a design leader; their products are easily identifiable as an Apple product from the minute you see it. Much like Google, Apple would most likely shirk the idea of a car with a traditional look for a clean slate design that is small but useful. The question then becomes how to make it so that anyone, young or old, who sees an Apple car pass them on the street know immediately that it is one of Apple's signature motoring devices.

Of course for the interior, there's several ways to make it feel like one of the company's tremendously popular iPhones. There's the simple square button, a mainstay from the original iPhone, to help you navigate the infotainment system, which will be very large, as distracted driving will no longer be a concern. Using a larger version of the iconic Apple screen layout (those little app squares and screens you swipe left to right) would also help tie the brand's newest products with its telephone bothers. A simple white or black color palate and a few glass surfaces would certainly help in that area too.
In 2010, Apple showed us the iMove. Designed by Liviu Tudoran, the design was based heavily on the iconic Macintosh mouse of our childhood. It paid homage to the Apple past, and certainly the goal to make the car unmistakably Apple, while utilizing that clean slate ideology in regards to traditional car design.


iMove as seen from the front. I think.

While I appreciate the design (especially those wheels, can I get those in 5x108? 5x205?) I feel like it's possible to make the car far more compact while retaining a distinctly Apple design.

The design I'm proposing is not an entirely new design. In fact it was designed by a lowly illustrator probably 50 years ago. That's right, the Apple car has been here the whole time, just waiting to be brought into the 21st Century by a team of engineer's employed by Apple.


Proposed Apple car, complete with Candy Apple Red paint.

Apple has always been about simple, yet striking designs, and nothing is as elegantly simple as this iCar design by the beloved Richard Scarry. With very few moving parts (even less if it is electric, as the iMove was intended to be), and only headlights mounted low and sleekly disrupting the beautiful curves of the vehicle, it's hard to have a more simple design. The large wraparound front windscreen pays homage to Apple's love of covering everything in glass, although hopefully they select a stronger glass for this application. Aside from that, there are no windows, another mainstay of the Apple we have all come to know. Safety features, which we've been assured will not be needed with driverless cars, include that weird net thing behind the passenger.




From this angle, the 4G hotspot antenna is far more visible.


While Candy Apple Red may not be the color for everyone, I'm sure Golden Delicious Yellow can be made available, as well as Caramel Dipped Gold, and of course Granny Smith Green for the older population who will come to truly appreciate the sense of ease that comes with parking the Apple car outside of their retirement home, as opposed to inside of it.

I even have a great idea for how to get rid of the check engine light, just for Jason. You see, in lieu of a check engine light, we have the entire car change to an old, gross, possibly smelly brown. If that doesn't convince you to go to the Apple Store and post inane Twitter quips while they sort it out, nothing will.

Coty Day is a VW enthusiast and FoST owner from Orford, New Hampshire. Only a handful of a people know where that is, but it gives Coty all the space he needs to live the Oppo lifestyle in comfort. He spends his time wondering why he can't find a nice car with a sensible bolt pattern to settle down with. Being pretty shit at bios, he let Carl write most of it.