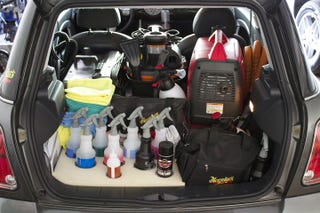 I just purchased a 2004 BMW X5 4.4i for my wife. We were thinking about a new car, but decided to put it off for a year or two. In the meantime, we really needed a bigger vehicle. I found this X5 and it fit the bill. It was actually pretty clean, but the headlights were a disaster.
Detailing Pros of Colorado Springs owner Eric Leroy went to work on the X5 and the transformation was pretty incredible.
The rest of the car looks magnificent as well, though by the time Eric finished it was raining outdoors, so there are no spectacular after shots of the vehicle. This picture will have to do.
The other aspect we were thrilled with was turning the grey and dingy molding back to black.
And the best part? A sparkling engine bay, of course!