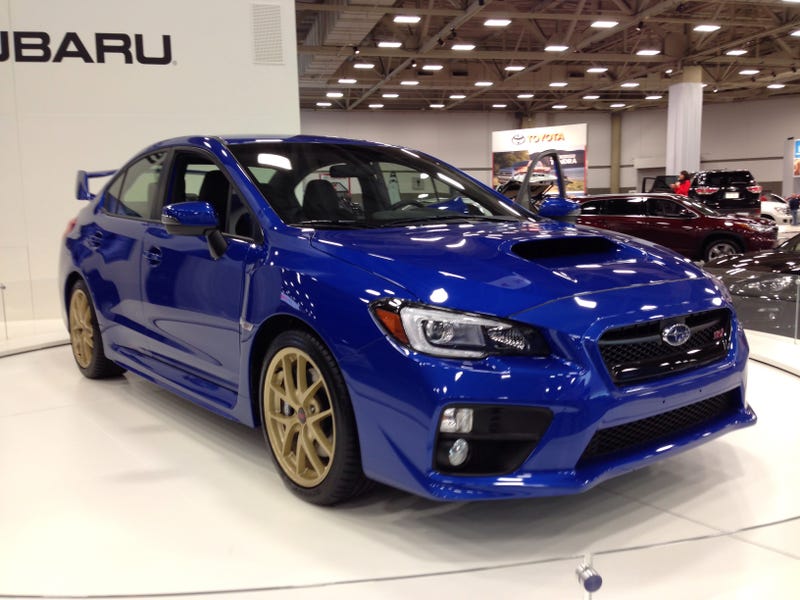 There was no way I was going to try to post all of them directly to here (because Kinja) so follow this link: (note: if you're on mobile, I suggest scrolling to the bottom and clicking full site, or else quality will appear to be awful. If you're on a desktop, you should be good. Also, these are all iPotato 5 pictures, so they aren't the greatest but should work)
http://s121.photobucket.com/user/PushToSta…
Little things I noticed:
-Despite what I thought from looking at pictures in magazines, the new STI is absolutely gorgeous. It's the best sedan body style for the WRX/STI they've ever done, IMO. (Sorry for slightly blurry STI pics, it was on a spinning platform and so they didn't turn out perfect.)
-The Subaru rep said that there was "a very good chance" that next model year will bring a hatchback WRX/STI, under that nomenclature. He also jokingly added to boycott all Subaru products until then to make sure they get the point :P
-Seeing a Pagani in the flesh was absolutely crazy, and the inside is indeed a spaceship.
-Not that you didn't know this, but the new Mustang is so sexy.
-The Mercedes S-Class steering wheel creeps me out
-The Fiat 500 Abarths shifter position is spot-on perfect
-Not pictured is the sexy white Maserati Gran Turismo I parked close to
-And shoutout to Scion for the free chapstick they were handing out. I thought it was stupid, but I used it several times yesterday. (Also not pictured)