They had a cool silver 68 Dodge Coronet 500 on the show... that Aaron the mechanic damaged, so they decided to upgraded it... and frankly, the wheels that it came with needed to go away.
[Edit to add picture of actual car above, thanks to Twism for finding it.]
It isn't this car pictured below, but it is very close to this one, and similarly silver. I couldn't yet find a quick source of images of the show last night. It did not have R/T badges (it was a Coronet 500, though, if that isn't mutually exclusive) and it had no tail stripe or hood bulge, and a black interior.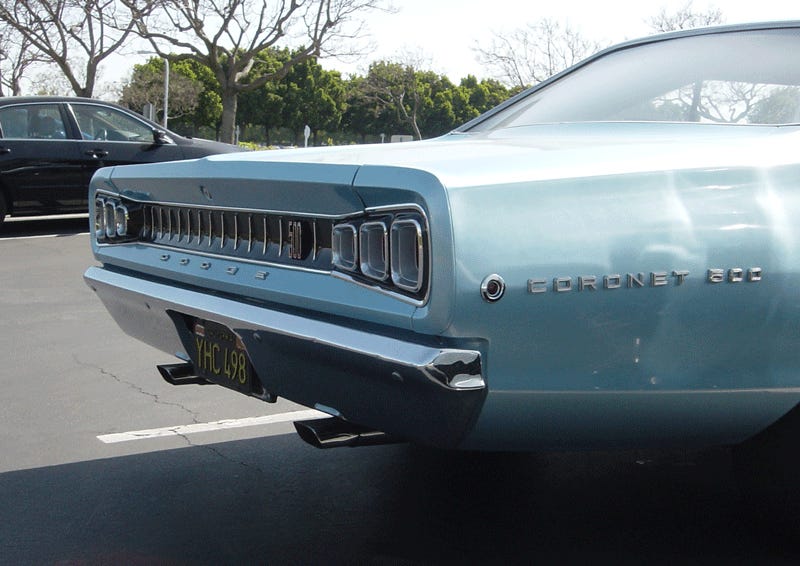 The one GMG had was a bit customized, with black painted bumpers, shaved door handles with keyless entry poppers, and it came in with some ridiculous looking wheels.
The thing is, they sent it out again with the wrong wheels... they had super-wide Magnum 500 replicas, which are about the simplest 5-spoke muscle-car era wheel design there is... like this but much, much bigger and wider. This wheel design was used almost ubiquitously all over the place, and is very common. Even british cars with four bolt hubs used a rostyle wheel that looked like this with four spokes. However, the ones they used on the Coronet they had, were dramatically big, but the design looked bland on the car.
The Dodge Coronet 500 has all sorts of examples of trapezoids all over the car, including the tail lights, to the fenders at the edge of the grille...
There is an OBVIOUS wheel choice for a Dodge Coronet that has a lot of trapezoidal references throughout the car's design...
The Dodge Coronet's design BEGS for the Foose Fury F261 wheel... a concave disc wheel with five big trapezoid windows.
It was already used on, and was designed for Mopar fitment and styling, on a Plymouth Fury.
And if Chrome is too much, it can be painted, and there is also the alternate Fury Genuine wheel...
Between that, and cutting the head restraint off the seat backs... (hello, whiplash!)
It was a very, very cool car that was let down by just a couple of relatively easy choices.
I might have been tempted to black out the hood on it, as well... there is an indent around the hood that would make a natural and cool effect... and many Mopars had the matte black hood option, including the Coronet A12 big-block drag car.