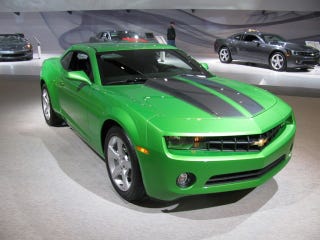 So, the wife and I stopped by my place of work (dealership) and she fell in love with one of our used cars. A Synergy Green Camaro... It's awesome and in perfect condition and she'd be trading in her PT Cruiser and upgrading to something with power and appearance.
The main dilemma here is that we're headed into winter and it's not gonna be a great winter driver. Secondly, is having to go from no car payments to 2 car payments in less than a year's time.
Help me decide what to do because I'd love to get rid of the PT and moving into such a standout piece would be a fun move but I just can't tell if it's the eagerness to get rid of the PT that's making me excited to do it.