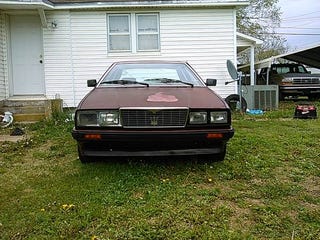 Either the price is $3152 or a dingo machine.
"1984 Maserati Biturbo. It is a twin turbo 2.0 v6, 5 speed manual transmission. It has Italian leather seats that are in good shape with no rips.
The car only has 23,144 original miles!! The low book value with average miles (which this one doesn't have) is $3,152.
I traded a service to obtain the car and have no use for it.
The story behind the car is it was purchased in Texas in 2007 for $7000 at a car lot, was brought to Tennessee some time after and the owner passed away, it was willed to his daughter who had no want or need for it.
Her husband drove it to their house and parked it and it was never started again, that was 3 years ago.
I got the car, tried to get it to start with no avail. I am not a mechanic by any means. Some of the car has the clear coat peeled off so it is faded in places.
Power windows work, original radio works and sounds good. Tires have like new tread, but do have some dry rot cracks in them due to sitting. All 4 tires hold air. I have a clean and clear Tennessee title for the car and original owners manual. Only 2000 of these cars made it to the United States.
MAKE OFFER or trade. things I may be interested in are other cars, trucks or SUVs. Stihl chainsaws, camper, motorcycle, dingo machine, skidsteer, chipper etc. Open so just ask, the worst I could say is no. Call or text show contact info with cash offers or trades."