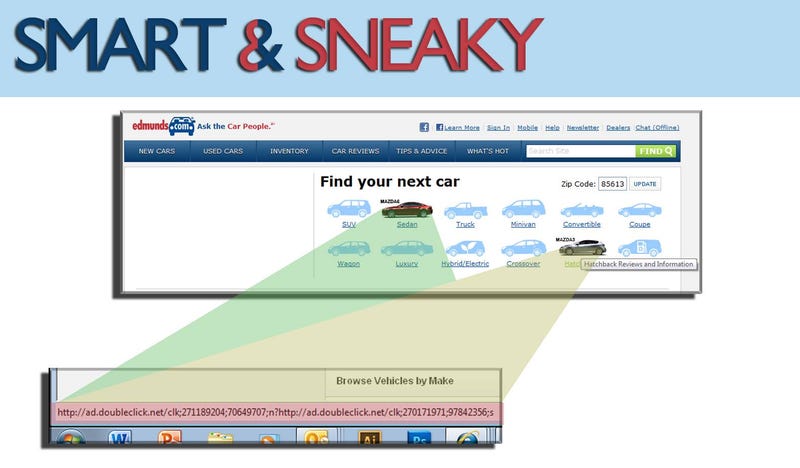 Edmunds finds a new use for banner ads - turning them into buttons! Click, click, cha-ching, cha-ching!
Last night I went to Edmunds.com to do my weekly browsing-of-incentives, when I noticed a crafty, dare I say sneaky, form of click through advertising.
In the upper right area of Edmunds' landing page they have two stacks of blue vehicle silhouettes that represent a specific vehicle type (minivan, convertible, etc.). Clicking on one of the silhouettes opens up a brief description of that category along with any new vehicles within that category. It's a great way for shoppers who are just starting the car buying process to just see what's out there.
What Edmunds did was replace two of the silhouettes with actual vehicle models. The Sedan and Hatchback silhouettes have been replaced with an image of an actual Mazda6 and Mazda3 respectively.
And if you hover your mouse over the image and look in the lower left hand corner (Internet Explorer 8 – don't ask) you'll notice the URL points to one of DoubleClick's Ad Servers (DoubleClick is Google).
By selecting a category a new car shopper puts money in Edmunds pocket and Mazda at top-of-mind. It's a very, very clever idea.
But is it dishonest? Do shoppers care they've been tricked into clicking what is basically a banner ad?
I doubt it. I'm not an expert on banner ads, but I avoid clicking them because they aren't part of my destination (or they're of girls in my area). If I'm going from A-to-B-to-C in my online journey I don't want to take a detour to B (1) as it delays me in getting to C. If clicking on B also means clicking on a banner ad, but it still gets me directly to C, then I could care less.
Generating ad revenue and preserving the quality of the user experience is a delicate balance, it seems here they've managed to do both.

Kudos.