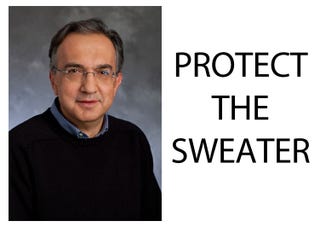 Are you authorized to carry a weapon in Michigan? Do you have 15 years of know-how protecting senior executives? Do you have prior law enforcement experience? Can you make people disappear?
OK, that last one I made up, but the first three are requirements listed in a new job announcement to join Chrysler's Executive Protection Group.
Their job – protect information, protect people.
From the announcement:
"Executive Protection is responsible for the protection of the security and integrity of strategic corporate intellectual property (IP) through a combination of investigative techniques, research, liaison and training. This role will assist the Executive Protection (EP) Group in providing for the safety and personal security of the company CEO, executive management, and designated other employees, by advising, planning and executing security techniques in accordance with the Chrysler EP philosophy. Provide internal training to assist all company personnel to protect intellectual property. Assist in the development and management of IP protection strategies. Create and maintain necessary databases and/or archives to track the intellectual property portfolio and technical documentation. Provide assistance to internal clients in pursuing non-disclosure and/or confidentiality for all external parties, as required. Assist Brand Protection with investigations to compile and document evidence, and develop clear and concise cases for presentation to Brand Protection management and Chrysler LLC Office of General Counsel (OGC). Assist with investigations into suspected IP theft, including the potential of some undercover work. Provide executive protection security to company CEO, executive management, or designated employees. Mitigate threats and vulnerabilities to senior management via investigations, proactive means, site visits, preplanning security at events, etc. Travel with executives as needed, often on short notice, including extended worldwide travel. Liaison with law enforcement and other security service providers for enhanced security as required. Maintain training, firearms qualifications, licensing, and permit requirements."
Intellectual property is a company's most valuable asset, so it only makes sense to ensure the person protecting your IP can also carry a gun. OK, I'm kidding about needing a gun, but corporate espionage, just like government espionage, is no joke.
I'm not an expert on espionage, but would assume this kind of position runs the gambit of crazy things to do and deal with from protecting Sergio during a visit in South Africa to going undercover in a sting operation to nab an engineer trying to sell design plans.
Having read this job description I would love to spend a day or two riding shotgun with Chrysler's Executive Protection Group. It would be an interesting, behind-the-curtain look at a very valuable, yet rarely talked about (for various reasons I'm sure) element in the automotive industry.
I can see it now...
"Cuda. Sweater6 is on the move."
"Roger Sebring. Confirm Sweater6 status. Four-Two-Six is hot. Roll in 3."
"Affirmative Cuda. Sebring OUT."