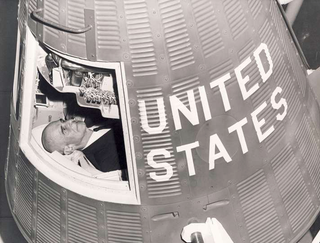 Though it looks like he's in a coffin, he is very much alive. Here's a clue: big time WWII hero. I'll have the answer in a little while if nobody gets it. And remember, reverse GIS is for cheaters and Communists.
Clue: He was a pilot
The man in the Gemini capsule is Jimmy Doolittle, leader of the Doolittle Raiders who bombed Japan in the early days of WWII. Congrats to Fl1ngstam.