***STANDARD DISCLAIMER RE DISTORTION EFFECTS OF WIDE-ANGLE LENS AKA "OBJECTS IN CAMERA ARE CLOSER THAN THEY APPEAR"***

As an introduction to the situation, here we have a grey Corolla moving from the right lane to the left lane.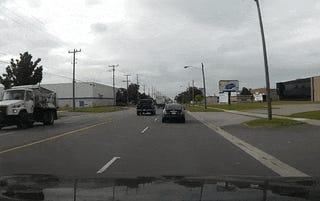 Then, 20 seconds later, they want back over... having accomplished nothing and totally oblivious to the fact that there are other cars within a mile of them.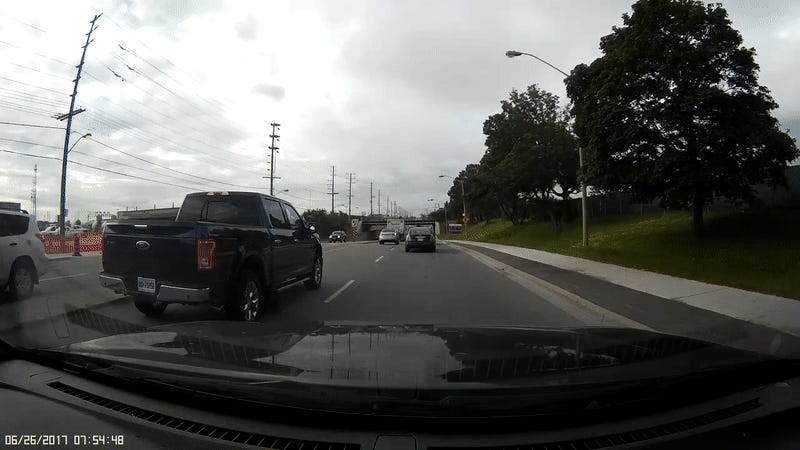 I'll be the first to admit that I probably didn't do the smartest thing myself, but: a) They'd stopped signalling even as the gap in front of me became available to me. To me that means "I give up, I'll wait" rather than "You mf'ers won't obey my signal immediately when you're right beside me? NEXT TIME I WON'T USE THEM". Especially since one thing this moron seemed to be doing right was signalling. b) If you aren't making a move to get in, I'm not going to hang around waiting for it. I'll keep an eye on you for sure, but it's not fair to me or those behind me to dick around while you make a decision. c) You may have heard tires chirp behind you. That was me. The ABS didn't stand a chance at engaging (not that I would have wanted it to, frankly). You had no room for that move, especially without a signal. Go fuck yourself.